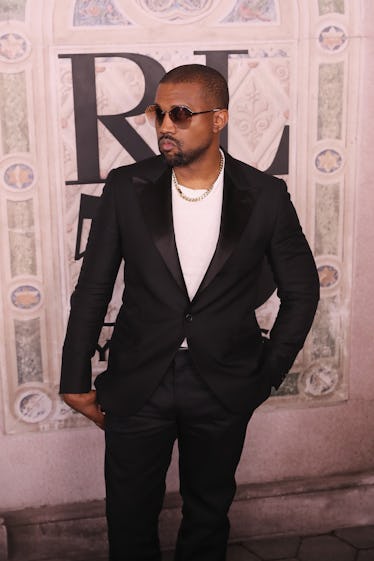 Kanye West Just Pushed Back His 'Yandhi' Album Release Date Again, But For A Good Reason
Rob Kim/Getty Images Entertainment/Getty Images
To all of the fans of Kanye West's music, I'm here to give you a bummer of an update. In case you somehow missed it, West announced that his new album, Yandhi, was going to debut on Friday, Nov. 23, after it was previously announced that it would be coming out on Sept. 29. And I hate to be the bearer of bad news, but it looks like it will be pushed back once more after West gave his fans an update on social media about the album. So, when is Kanye West's Yandi album release date? Unfortunately, it seems pretty unclear at this point, so I guess you'll just have to keep Ye on repeat for a little while longer.
Let's go back to where it all began, back on Sept. 17, when Kanye West responded to Saturday Night Live's tweet about the rapper being the musical guest for the premiere of the show's 44th season. Of course, West's photo was altered, and instead of his own name on the image, it was replaced with "Yandhi," which led many fans to speculate that West was putting out another album as a followup to Ye, and that it would be coming out on Sept. 29th:
While it's true that the album was initially supposed to coincide with his Saturday Night Live appearance, something must have changed on the rapper's end, because on Oct. 1, Kim Kardashian announced the new release date for Yandhi, revealing that now, the album would come out on Black Friday (aka, Nov. 23), writing, "Nov 23 Black Friday YANDHI TRUST ME it is worth the wait," then adding every known emoji in the universe:
Elite Daily reached out to West's team for confirmation on whether Yandhi will be released Nov. 23, but did not hear back by the time of publication.
So, for those of you who have waited patiently for Nov. 23 to come, get prepared to wait even longer.
How much longer? A lot. A little. I actually have no clue. And maybe West doesn't either?
He took to social media on Monday, Nov. 12, tweeting after his performance with rapper Kid Cudi this past weekend at Camp Flog Gnaw, explaining that he just doesn't feel Yandhi is ready for its release just yet. He wrote,
It felt so good being on the stage last night with my brother Cudi. After performing again, I realize the new album I've been working on isn't ready yet. I'll announce the release date once it's done. Thank you for understanding
I know, I know. This is a real downer, especially for those who were amped to hear what would be West's ninth solo LP, and his first since the release of Ye in June and Kids See Ghosts, his joint album with Kid Cudi that was released a week after Ye. But good things come to those who wait, so let's all hope that Yandhi will blow everyone away.
We may never know why the release of this album has been postponed, take comfort in knowing there's probably a really good reason for it.
Or not. I don't know.
And again, maybe Kanye doesn't either. K, bye!