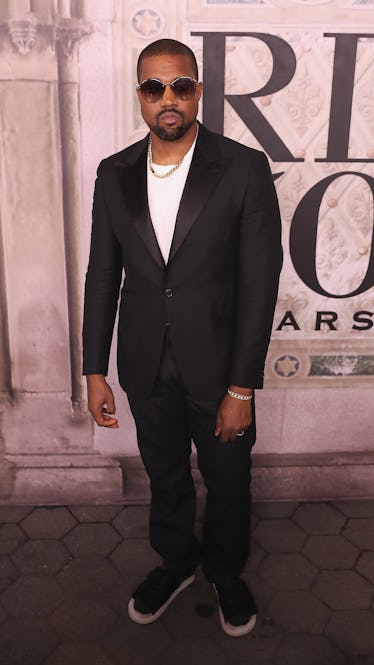 Kanye West Is Apparently Releasing 'Yandhi' On This Date, So Prepare To Wait Even Longer
Rob Kim/Getty Images Entertainment/Getty Images
There's no shortage of Kanye West in the news right now. Between his comments on the 13th Amendment, his support for Donald Trump, and his new album Yandhi, West really is controlling the pop culture news cycle at the moment. But if you're tired of hearing about West, then you're out of luck. It looks like he'll be making headlines for a few more months to come. After it was previously announced that his new album would come out on Sept 29, fans are now learning that Kanye West's Yandhi will release on Black Friday, Nov. 23.
Elite Daily reached out to West's team for confirmation on whether Yandhi will be released Nov. 23 but did not hear back by the time of publication.
It was actually West's wife Kim Kardashian who announced the new released date for the album. Kardashian took to Twitter to say that Yandhi would be available on Black Friday. In an Oct. 1 tweet, Kardashian wrote, "Nov 23 Black Friday YANDHI." She then gave fans a bit of a tease about the long wait until then, "TRUST ME it is worth the wait 😱😘💦💰👑🔥🎥💋👅👏🏼💕😍🔌🤩"
If all those emojis are any indication, then maybe waiting almost two months for the album drop is actually worth the wait. But it seems fans will just have to bide their time.
Here's a look at what Kardashian tweeted about the album:
The album was initially set to be released on Sept. 29 while West was making an appearance on the 44th season premiere of Saturday Night Live. While appearing on SNL, West decided to deviate from his performance and make an impromptu speech in support of Donald Trump. The reaction to his speech was rather strong and somewhat negative. Considering what West said, it's not so difficult to see why.
While wearing a red Make America Great Again hat, West said the following to the SNL audience:
You see, they laughin' at me. They screamin' at me. They bullied me. They bullied me backstage. They said, 'don't go out there with that hat on.' They bullied me backstage. They bully me and then they say I'm in the Sunken Place. You want to see the Sunken Place? Okay, I'mma listen to y'all now. Or I'mma put my Superman cape on and this means you can't tell me what to do. Follow your heart and stop following your mind. That's how we're controlled; that's how we're programmed. If you want the world to move forward, try love. Thank y'all for giving me this platform. I know some of y'all don't agree, but y'all be going at that man's neck a lot and I don't think it's actually that helpful. I think the universe has balance. 90 percent of news are liberal. 90 percent of TV, L.A., New York, writers, rappers, musicians… so it's easy to make it seem like it's so so so one-sided.
It's not clear whether the negative reaction to his speech had anything to do with delaying the release of Yandhi. Given how seemingly committed West is to politics right now, it wouldn't surprise me if this was his most political album yet. I guess everyone will just have to wait and see!