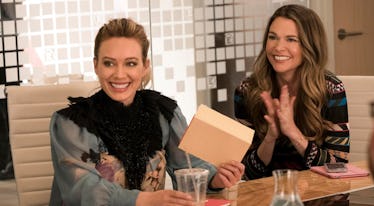 'Younger' Revealed Its Season 5 Premiere Date & It's Sooner Than You Think
TV Land
About half a year has passed since that shocking cliffhanger that ended Season 4 of Younger, and now fans of the age-defying romantic dramedy may finally find out why Charles was calling Liza. The Younger cast recorded the first few minutes of their script read-through for the Season 5 premiere episode, and also dropped the premiere date for the highly anticipated new season. So when does Younger Season 5 premiere? Thankfully, we only have to wait a couple more months before jumping back into all the new drama at Empirical.
The newly released table read video promises that Younger Season 5 will jump right into all the questions that arose after Josh's Irish wedding last season, and it also reveals that the Season 5 premiere will air in just over two months, on June 5, 2018. The new clip, which is filmed in 360 degrees panorama, picks up where the Season 4 finale left off, after Liza and a newly married Josh have come back to New York following Josh's wedding to Clare in Ireland. As a reminder to fans, the night before Josh's wedding, the tattoo artist got drunk and professed his love for Liza, promising to call the wedding off, but the next morning he decided to go through with it anyway in order to move on from Liza.
The Season 5 premiere will kick off with Liza and Josh's reunion in New York, after he gets home from Ireland. And in an eyebrow-raising twist, it sounds like Josh has slid into Liza's DMs (although Liza doesn't know what a DM is) despite the fact that he's a married man now... Check out the first few minutes of the premiere below:
Very interesting! The new script also mentions the other major plot point from Season 4: Charles' ex-wife Pauline's thinly veiled autobiography Marriage Vacation (which is actually being made into a real book). Pauline brought the book to Empirical, and Liza was assigned to edit it... creating a ton of awkward moments between her and Charles. Earlier in the season, it seemed like the Liza and Charles may finally go for a romance after years of subtle (and not-so-subtle) flirting, but once Pauline brought her tell-all to Empirical, brimming with intimate details about her former love life with Charles, the former flames began to reconnect and Liza stepped back from Charles to refocus on her professional life.
Well, in the new season, Kelsey reveals that Marriage Vacation has been published and it is a massive hit, even counting Reese Witherspoon as a famous fan. What could this mean for Liza and Charles' relationship? As fans will recall, the very last moment of Season 4 showed Liza's phone ringing as with Charles' face popping up — but Liza couldn't answer since she was at a wedding. The reason behind that call is still a mystery, but it definitely seems like a ray of hope for the #TeamCharles fans out there.
While a lot of what is going to happen in Younger Season 5 is still a mystery, we do know a few other details about what's to come. We can expect to see a lot more of Kesley's boyfriend/work rival Zane Anders in the new season, considering the show has bumped actor Charles Michael Davis up from recurring to series regular for Season 5. When we last saw Zane, Charles had hired him as a senior editor at Empirical, meaning that the workplace tension between him and Kelsey will likely be growing a lot more fraught.
The new season will also include a couple of episodes featuring Sutton Foster's ex-husband and frequent collaborator Christian Borle, who will play a charming journalist that Liza confides in. Younger Season 5 debuts on June 5, 2018 on TV Land.