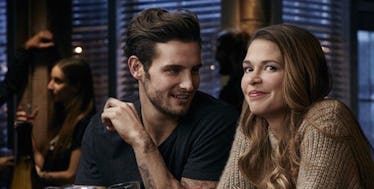 'Younger' Is The Totally Insane, Totally Addicting Show You Need To Be Watching
TV Land
Do you ever find yourself missing the off-the-walls, soapy delights of shows like Gossip Girl or Sex and the City? Did you think Bunheads was canceled way too soon? Are you wondering what Lizzie McGuire is up to nowadays? Then boy do I have a new TV obsession for you.
In case you aren't already clued in, TV Land's Younger might be the most delicious comedy-drama on air right now. It's bright, fashionable, super dramatic, hilariously campy, often batsh*t crazy, and always has you craving the next episode. And it's fourth season is premiering on Wednesday, June 28.
Seriously, guys, I got into this show back in 2015 mainly just because I was a fan of its stars, Hilary Duff and Sutton Foster, and kind of only expecting a bit of trashy fun, but I got hooked. Like, majorly hooked.
The premise sounds hokey and it is, but it's also so much dramatic, soapy fun that you can't resist diving into it. Basically, Liza Miller (Sutton Foster) finds it impossible to get an entry level job in the publishing industry at the age of 40, so she is forced to pretend to be 26 in order to work as an assistant at a major book publisher.
Foster is, per usual, so magnetic and likable in the lead role, and the supporting cast of Liza's fun-loving work friend Kelsey (Hilary Duff) and her hyper-critical boss Diana (the scene-stealingly hilarious Miriam Shor) add to the campy fun of the series.
And as you've got to expect from a show like this, of course, Liza finds herself in a love triangle that's divided fans between #TeamJosh and #TeamCharles.
Liza has been dating the energetic, 26-year-old tattoo artist Josh (Nico Tortorella) since the first season, but things have been heating up between her and her supposedly-older-but-actually-around-the-same-age boss Charles (Peter Hermann) as the show has progressed.
I will say that as much as I love this show, there have been moments where it just got too insane for me to defend. One scene involving a steel beam falling from the sky at the end of Season 2 immediately comes to mind.
But despite these random bits of dramatics, Younger always wins me back with its sheer tongue-in-cheek campiness and flair for unexpected and engaging character development.
Season 4 of Younger premieres on TV Land at 10 p.m. ET on Wednesday night. If you need to catch up, all the episodes from Seasons 1 — 3 are streaming on Hulu.