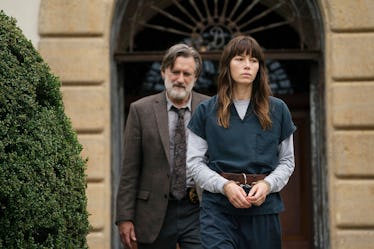 Jessica Biel's 'The Sinner' Got Renewed For A Second Season & Fans Are Thrilled
Peter Kramer/USA Network
After months of uncertainty, the amazing limited series The Sinner has finally been renewed for a second season. What started as a "why-dunnit" about Cora Tannetti (Jessica Biel), a woman who randomly murdered a man at the beach one day, will now expand upon the story of Harry Ambrose (Bill Pullman), the detective who championed Cora's innocence — if you can call it that. So, when does The Sinner Season 2 premiere? I'm beyond obsessed with this show, so I need to know when Jessica Biel will be returning to my TV.
According to CinemaBlend, fans can expect to see Season 2 of The Sinner in Summer 2018, and the eight-episode second season is going to be even more unnerving than the first. Here's the official description for Season 2:
Season 2 lures Detective Harry Ambrose (Pullman) back to his hometown in rural New York to assess an unsettling and heart wrenching crime — parents murdered by their 11-year-old son, with no apparent motive. As Ambrose realizes there's nothing ordinary about the boy or where he came from, the investigation pulls him into the hidden darkness of his hometown. He's pitted against those who'll stop at nothing to protect its secrets — and a mysterious woman who proves to be a complicated, enigmatic piece to this haunting puzzle.
Parents murdering their 11-year-old son? Does USA want to rip our hearts out even more than it did with (**spoiler!**) Phoebe's shocking death and Cora's subsequent imprisonment?
While Biel hasn't officially announced that she's reprising her role, Deadline reports that there's talk about Cora making an appearance in Season 2. Considering that Ambrose is traveling to his hometown to solve the boy's murder and that Cora was sentenced to two years in a psychiatric facility in the Season 1 finale, it wouldn't make sense for her to have a huge role in the second season. However, it's possible that the creators are fast-forwarding two years in time, and Cora is already out of the facility. As much as I love Ambrose's character, Biel was the real highlight of Season 1, and I'll be bummed if she's relegated to a quick cameo in the next installment. That being said, Biel will continue to serve as an Executive Producer for Season 2, so even if fans don't see her on-screen, she'll have a strong off-screen presence.
Given the success of The Sinner's first season, it's no surprise that USA wanted to expand the show. According to Deadline, The Sinner was the top-rated new cable series of 2017, and it received massive acclaim from fans and critics alike. The Sinner was nominated for two Golden Globe Awards for Best Limited Series and Best Actress in a Limited Series, but because it had to compete against the powerhouse that is Big Little Lies, it didn't come away with a trophy.
With or without a gold-plated award, fans are ecstatic that the surprise summer hit is coming back for a second season. Immediately after the news broke on Friday, fans took to Twitter to express their excitement.
Fans aren't the only one excited about Biel's show: her husband, Justin Timberlake, is super into the complicated psychological thriller. When the show first premiered in August 2017, Timberlake posted a trailer for the show on Instagram with the caption:
Ok, I know I'm not exactly fair and maybe biased here, but my wife's new show - @thesinnerusa - is amazing. It's like nothing I've seen her in before, and she's incredible in the role. You should check it out when it premieres Wednesday on USA. --JT
The post received just under 4 million views, so USA should probably thank JT for driving viewers to their show.
Maybe Timberlake will make an appearance as Cora's second husband in Season 2? We'll have to wait until this summer to find out.