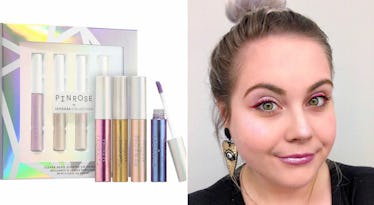 Pinrose x Sephora Collection Dropped Scented, Holographic Makeup & You Have 24 Hours To Glo-Up — EXCLUSIVE
Courtesy of Sephora // Theresa Massony
IDK about you guys, but when the sun gets brighter and the weather gets warmer, that means it's time for my skin to glow more than it has ever glowed before. This summer, in particular, is clearly my (and your) time to shine, because it seems like everywhere I turn, a new product is continuing this ultra-shiny trend. And one new collab between Pinrose and Sephora coming your way is about to make all of your holographic dreams come true. So when does the Pinrose x Sephora Collection drop? Well, let's just say, it's available exclusively on the Sephora app right now. But you don't have any time to waste.
Before we get into that, though, let's break down the details of this collection, shall we? Now, while you might only associate Pinrose with fragrances, this latest collection isn't just a bunch of bottled scents. Rather, these new products allow you to sport your favorite Pinrose fragrances in a slightly different way.
The collab offerings are three-fold. First up is a set of four Clever Devil Scented Lip Shimmers ($28). These shiny, holographic, and yes, scented glosses come in a pink-, gold-, indigo-, or pearl-hued tint and will not only give your lips the perfect, changing luster, but they'll smell like a dream, too. As if my face wasn't already a snack...
Equally as shiny and scent-happy is the Pinrose x Sephora Secret Genius Highlighter ($22). Infused with Pinrose's "Secret Genius" scent, which features notes of caramel and vanilla, this scented highligher boasts a creamy formula, allowing its holographic shine to melt right into your skin. While bright enough to trap in light, overall the formula is still subtle enough to cover your whole body in — no, really, you can do that — without blinding everyone who walks by you.
And of course, if you're gonna have bomb-*ss holo products galore, you need the proper tools to apply it with, right? Right. Enter: the third product in the Pinrose x Sephora collab to round everything out — the Clever Devil Brush Set ($48). The five-piece, rainbow set includes a fluffy powder brush, a cheek brush, an all-over shadow brush, a smudge brush, and a crease brush, so you can bring your full-face holographic look to life.
I know you're probably itching to get your hands on this collection, so listen closely, fam. The Pinrose x Sephora Collection launches officially on June 28, 2018, in Sephora stores, on the brand's app, and online. However, if that's too long for your alien heart to wait, I'll let you in on an ~exclusive~ secret that you have to act quickly on. Today only (that is, Wednesday, May 30), this collection will be available to the public only on the Sephora app. That's it. Only 24 hours. On the app. After that, you'll have to wait for the official launch in June, where the lip set and highlighter will be available online only at sephora.com, and the brush set will be available in stores.
If you'd rather see the collection in action before you drop all your money on these new buys, you're a smart person, but I don't understand you. (Making an informed decision before spending money on something??? What's that like???) Still, though, I have you covered. Because I am truly blessed for some reason, I got to try out the full collection myself a little early. Not to spoil anything, but let's just say, the Pinrose x Sephora Collection allowed me to assume my true holographic alien form, but in a wearable, everyday kind of way.
The Clever Devil Scented Lip Shimmers
While most holographic products you see out there provide reallyyyyy in-your-face shine, I was surprised to find the Clever Devil Scented Lip Shimmers were much more subtle, yet still packed with a lot of shine power when the light hit them. The color swatches appear in the same order that the shimmers are stacked in above. To create my own look, I opted for the top blue/purple-tinted one, which made my lips smell sweet and fruity — like grape or blueberry.
When applied on my lips, the fairly sheer formula still caught the light on my lips, giving them a not-too-much but not-too-little glow. I'd consider this gloss perfect for both everyday wear, or on days where you pack every holo product you own on your face and own it like no other. (So... every day for me anyway?)
The Secret Genius Highlighter
Similar to the Lip Shimmers, the Secret Genius Highlighter boasted a rather subtle glow. If you swatch the creamy formula on your hand, you'll first notice a very faint pink/purple glitter. However, once the light really hits it, the swatch glows with a lilac tint — right on trend, considering lilac makeup is hot for summer.
When I dabbed the highlighter, which smelled of vanilla, on my cheek bones, the formula immediately melted into my skin. This is a dream for someone like me, who has extremely dry skin (yes, even in the summer) and flinches at the thought of too many powder-based products. Again, I'd consider this highlighter extremely wearable for every day, though its glow will still shine bright enough if you're hoping for a more intense look. I even dabbed a bit on my eyelids as well. You can never have too much highlighter. Tattoo that statement on me.
The Clever Devil Brush Set
If you ask me, the Clever Devil Brush Set is the cherry on top of anyone's holographic makeup arsenal. The set of five brushes covers all your major face brush needs — from an ultra-fluffy powder brush all the way down to a smudge brush — and the bristles are some of the softest I've felt. Think of a unicorn's mane grazing your skin, and it feels like that, but somehow better.
An Alien In Her True Form
As I mentioned before, both the Lip Shimmers and the Highlighter gave me a noticeable glow without going overboard. At first glance, my look appeared fairly normal, perhaps a little brighter at the high points of my face. But when I found my light, the changing holographic colors came out to play like no other. Though I'm not one to shy away from, well, intense makeup on any given day (that hot pink eyeliner is a staple of mine), the Pinrose x Sephora Collection offers even the most subtle makeup lovers an opportunity to glow to their heart's content.
This collab easily marries the fun of getting your glow on with the fun of fragrance. And the surprisingly seamless connection this collection has created between beauty and fragrance isn't lost on the brands either. "Our product collaboration with Sephora Collection has allowed us to bring the worlds of color cosmetics and fragrance together like never before," says Pinrose Co-founder, Erika Shumate. "Working with the talented and professional team at Sephora Collection has been a joy-filled experience — one where imagination and individuality have been key to the product development experience."
All in all, not only did my look experience a serious glo(w)-up, but my face smelled good enough to eat. (Not that you should eat anyone's face. Please don't eat anyone's face.) So remember, May 30, is your 24-hour opportunity to snag this limited-edition collection only on the Sephora app. After that, you'll be forced to wait until June 28, when the collection launches on sephora.com.