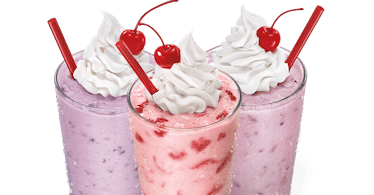 Sonic's Half-Price Shakes Deal Is Coming To An End Very Soon, So Drink Up
Even though summer doesn't technically end until the fall equinox on Saturday, Sept. 22, Labor Day weekend usually marks the unofficial end of the season of sun-filled days at the pool. Unfortunately, that also marks the end of the tasty summer food deals that you've been taking advantage of all season long. So, you might be wondering, "When does Sonic's 'Summer Nights' half-priced shakes deal end?" Well, if you want a discounted sip, you better head to the drive-in chain before the end of Labor Day weekend.
If you're not familiar with the "Summer Nights" deal at Sonic, let me fill you in on the bargain. Per a press release from March 22, 2018, the deal means that customers can get "half-price Real Ice Cream Shakes, Floats and Ice Cream Slush after 8 p.m." OK, I'm officially bummed out that I did not know about this deal all summer long. Thankfully, you can still take advantage of the deal through Labor Day on Monday, Sept. 3. If you want a taste of this sweet deal, I'd make a note to get to your local Sonic location by then, because the "Summer Nights" deal expires on Labor Day, per an Aug. 31 tweet from the official Sonic Twitter account.
If you do make it to one of the final nights of Sonic's post-8 p.m. deals, you'll have plenty of options from which to choose for your half-price sip. Sonic's Real Ice Cream Shakes are on the deal menu — and you really are getting a great deal — because a medium shake goes for $3.59, per Fast Food Menu Prices. In the final days of the "Summer Nights" deal, though, you can score that exact sip for less than $2 ($1.80 to be exact).
Oh, and the flavors are so wide-ranging that you are sure to find what you are craving in these late summer nights. With classic flavors like strawberry and chocolate and master shakes like strawberry cheesecake and Oreo cheesecake, there is sure to be a combination that will satisfy your sweet tooth.
You don't even have to stick to the classic blended ice cream shake with this deal. You can also get a half-price Sonic Float or a half-price Sonic Ice Cream Slush. Nothing says summer like a root beer float or Grape Ice Cream Slush, right? If you're a little rusty on your Sonic sips, the Sonic Float plops the chain's Real Ice Cream into your favorite soda like Barq's Root Beer or Fanta Orange, and the Ice Cream Slush is like an upgraded version of it, because that involves the addition of ice cream to whatever Slush flavor is your top pick (sadly the Pickle Juice Snow Cone Slush left the menu in July). Green apple? Watermelon? Cherry? You can get whatever floats your Ice-Cream-Slush boat.
If you have a little stomach grumbling going on during your late-night milkshake time, you can also grab some food from America's Drive-In. With $1.99 Soft Pretzel Twists that come complete with melty cheese and a $2.99 American Classic, which is your choice of a Chili Cheese Coney, Quarter Pound Double Cheeseburger, or All-American Dog plus a medium-sized tater tots, you'll have the late-night snack game on lock.
Remember to get there on Sunday, Sept. 2 or Monday, Sept. 3 (or both days) after 8 p.m. local time to take advantage of the final days of the half-price "Summer Nights" deal. If you ask me, bidding adieu to summer 2018 with more money in your pocket and a milkshake in your hand sounds like the perfect send-off.