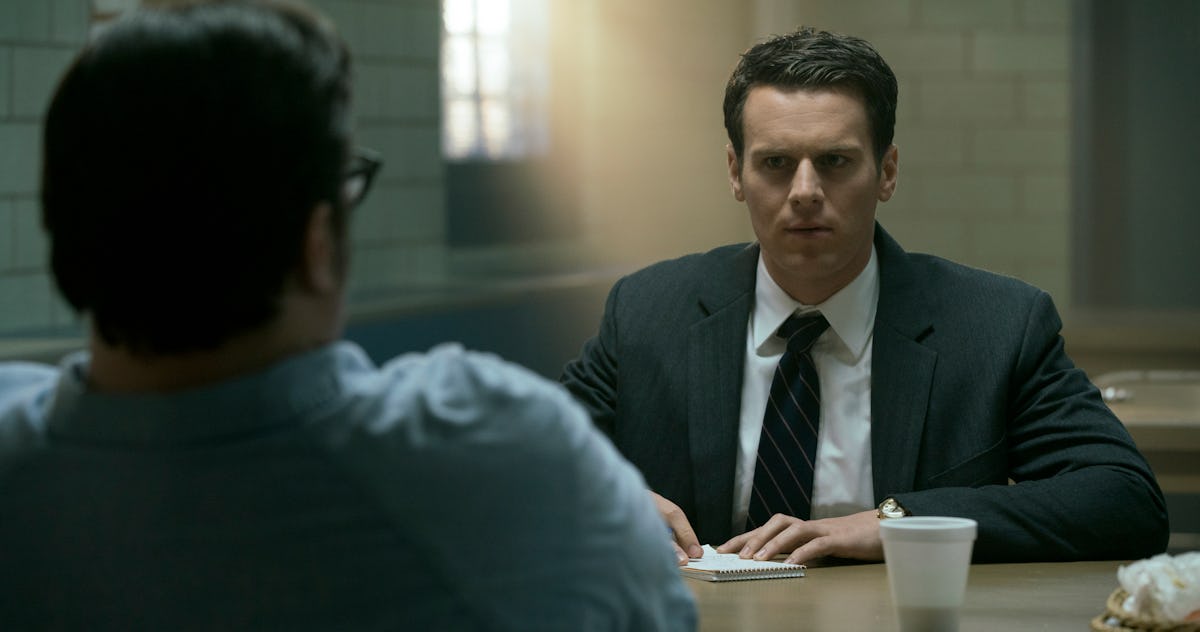 'Mindhunter' Season 2 Is Officially Happening, So Get Your FBI Skills Ready
Netflix
We're not done hunting minds yet, y'all. A month and a half after producer David Fincher's edge-of-your-seat serial killer thriller Mindhunter premiered, Netflix has announced that a second season is officially on the way. Fincher has actually already let some details about the upcoming season slip, and it sounds like fans of the show have a lot to look forward to. So when will Mindhunter Season 2 premiere, and what is going to happen next with the messed-up moral gray area that is Holden Ford? Let's get into everything we know about the new season right now.
This renewal should come as no surprise to fans of Mindhunter — the crime drama landed on Netflix in October to rave reviews (its first season holds an impressive 96 percent on Rotten Tomatoes), and the season finale left viewers with a bunch of pressing, unanswered questions. Oh, and there is also the fact that Fincher may have accidentally let it slip just a week after Mindhunter premiered that Netflix was already planning on renewing the show. In an interview with Billboard about the music used on the show, Fincher let it slip that Netflix had actually already picked up Mindhunter for a second season on the quiet before the first one even premiered. That was about a month and a half before Netflix's official renewal announcement right now.
In that interview, David Fincher also spilled some details about what he wants the second season of Mindhunter to focus on. As fans know, the first season was all about two FBI agents (Jonathan Groff's Holden Ford and Holt McCallany's Bill Tench) and a psychology professor (Anna Torv's Dr. Wendy Carr) as they tried to get into the minds of famous serial killers in order to help solve exceptionally tricky murder cases. The show is based on the true crime book Mind Hunter: Inside the FBI's Elite Serial Crime Unit, and featured portrayals of several real-life serial killers, such as necrophiliacs Edmund Kemper and Jerry Brudos, as well as the infamous BTK Killer Dennis Rader. Fincher said he will continue the show's focus on true crime by having Holden and Bill investigate the Atlanta child murders in Season 2.
Next year we're looking at the Atlanta child murders, so we'll have a lot more African-American music which will be nice. The music will evolve. It's intended to support what's happening with the show and for the show to evolve radically between seasons.
The choice to focus on the Atlanta child murders makes a lot of sense for the new season, since the killings began in 1979 and Season 1 of Mindhunter was set in 1977. To get you up to speed on the big case before Season 2, the Atlanta child murders refers to the mysterious killings of at least 28 African-American children, adolescents, and adults in the Atlanta area between 1979 and 1981. Though a few of the murders were attributed to 23-year-old Wayne Williams, much of the case remains unclear.
As for when we can expect to actually see Season 2 of Mindhunter pop up in our Netflix queues, I actually wouldn't be too shocked if it came out sooner than most fans may think. Clearly, David Fincher already has the plot details in mind, and was able to get a head start with Netflix actually renewing the show prior to Season 1 even dropping. If the new season is another 10 episodes like Season 1 was, then I would guess we might see the next season midway through 2018. That's totally a stab in the dark, but I think it's safe to assume with all the advance notice Fincher got that Season 2 will be here before next October.