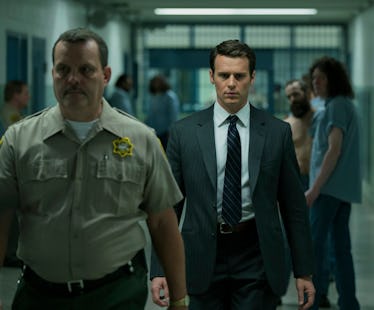 Netflix's Newest Serial Killer Drama Is Based On A True Story: Here's What You Need To Know About 'Mindhunter'
PHOTO CREDIT Patrick Harbron/Netflix
It's time to get ready for your next Netflix obsession, everyone. You may have already binged the hilariously offbeat American Vandal, and there are a few weeks to go before Stranger Things returns, so perhaps there's a nice little opening in your precious viewing time. If you're a fan of true crime but you also love a gritty drama, Mindhunter is probably going to be right up your TV alley. Director David Fincher is bringing his unique eye and cinematic expertise to the streaming service yet again, and this time he's taking us inside the world of '70s serial killer profilers. Is Netflix's Mindhunter based on a true story? It's actually adapted from a book that chronicled the experiences of FBI agents who developed psychological profiles for criminals.
Mind Hunter: Inside the FBI's Elite Serial Crime Unit was co-written by John E. Douglas, who worked for the FBI for 25 years revolutionizing the way criminals are studied by going deep inside the psyches of some of the most notorious serial killers and criminals of the era. Douglas' career is fascinating, as he interviewed and analyzed figures like Charles Manson and Ted Bundy. He was even the inspiration for the character of Agent Jack Crawford in Silence of the Lambs. Talk about a lot of dark and compelling material to draw from.
Mindhunter will go back to 1979 and jump into the Behavioral Science Unit's twisted and eerie inner-workings as they figure out the motives and the behaviors inherent and created in the minds of killers. "Are criminals born or are they formed?" the trailer asks. This is a question that is part of Douglas and his team's life work, and they were apparently able to establish a more technical and precisely psychological approach to getting to the bottom of the kind of answers they needed in a way that had never been utilized before. Yikes. Those serial killer interview scene clips are already chilling us to the bone.
Jonathan Groff (Glee, Looking) will step into the suit of Holden Ford, who is based on Douglas. Hold McCallany (Lights Out) is Bill Trench, based on another FBI agent, Robert Ressler. David Fincher is a producer alongside Charlize Theron, but he also directs four episodes. Of course Fincher is no stranger to the shadowy genre, since he was behind the nightmare-inducing Seven and 2007's Zodiac, about the Bay Area's famed Zodiac killer. He also directed Gone Girl, which was adapted from one of biggest fictional crime novels of the last decade. Fincher was integral in getting Netflix taken seriously in the original programming game — he serves as executive producer of House of Cards and directed the show's first two episodes. We already see his signature style in the Mindhunter trailer when it comes to look and tone, so we're hooked already.
But does this fictional retelling of this story stick to reality? Fincher spoke to Time about how true this true crime really is, explaining,
A lot of [the interviews with serial killers] were taken verbatim. The Kemper interviews, the Manson interviews — that stuff is pretty well documented. We stayed as close to that as we could while still having a dramatic arc. I don't think we attribute anything to Kemper that he didn't say. I mean, he may not have used the word oeuvre.
"One of the things that is so chilling about 'Mindhunter' is that it humanizes the serial killlers, these sad, [messed-up] guys with damaged pasts and mental problems. It's so much scarier to look at them as human beings," Jonathan Groff revealed to the LA Times.
In a TV landscape where criminal characters are often over-exaggerated, stereotyped, larger-than-life, or completely untouchable, it will be interesting to see portrayals and interactions that are based on real-life accounts and psychological evidence. We're guessing these interviews aren't going to look anything like Stabler confronting a local menace on SVU. No matter what happens, we can already see ourselves binging Mindhunter deep into tomorrow's late night hours. With the lights on, of course.