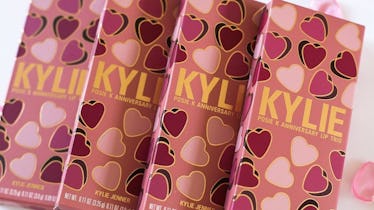 Kylie Cosmetics Is Dropping A New Lip Kit With A Best-Selling Shade, Just In Time For V-Day
Kylie Cosmetics
As cheesy as it sounds, I actually enjoy February as a season of singlehood. Without a bae to drop cash on, I can focus on personal growth and loving myself. It's also the perfect opp to gift myself the latest limited-edition lip kit from Kylie Jenner, which is why I've discovered when Kylie Cosmetics Posie K Lip Trio drops.
Two years ago Kylie blessed the makeup world with Posie K, a matte lip kit in a beautiful berry shade. Everyone and their mother loved this lip kit (it even made Allure's 2017 Best of Beauty Award list, winning best bright pink lipstick). More than editors loved it, though, because I even shipped a kit to one of my good friends in South Korea. The hype was that serious. I'm not even going to lie, Posie K is beautiful and totally up my alley.
While people all over America were either indulging on Thirsty Thursday, getting their beauty sleep, or getting some late night work done, Jenner took to Instagram to announce that she was launching a just in time for V-Day! In this set, fans will receive the existing matte liquid lipstick and gloss, and a brand-new velvet liquid lipstick.
"Say hello to the Posie K Anniversary Lip Trio set! Featuring our award winning shade in gloss, matte and brand new velvet formula! Launching Feb 5 Just in time for Valentine's Day! ," the brand announced on social media.
According to Allure, the Velvet Liquid Lipstick's formula doesn't dry down. That means you won't need the help of 1,000 men to remove it at the end of the day. While I love the Matte Liquid Lipstick for events when I don't want my lipstick to move, sometimes I need a more hydrating formula. Especially in this dry, cold weather, known to be unforgiving to lips and skin.
The Velvet Liquid Lipstick has a creamy, moisturizing consistency, so you don't have to worry about accentuating your flaky lips, which praise. (I basically carry my small jar of coconut oil around the house at all times and bring three different moisturizing formulas in my purse when I go out.) Don't worry though, even though this is a more hydrating liquid lipstick, you'll still have that matte finish that everyone has come to know and love.
Just last year, Kylie Cosmetics Valentine's Collection made quite the impact on the beauty community. Jenner not only released a custom eyeshadow palette, brand new lip kit colors, and gift sets, but she also launched her first blush products.
I don't know why I expected anything else, but I really didn't think fans would see a V-Day launch. Kylizzle just released her Kylie Cosmetics' Blue Honey eyeshadow palette ($38, kyliecosmetics.com) which fueled rumors she is having a baby boy. Nevertheless, the Posie K Lip Kit ($29, kyliecosmetics.com) is a best-seller, so creating an anniversary product is genius.
If you're unfamiliar with the shade Posie K, have no fear. It's described as a cool mid-tone berry, but the actual shade can vary a tad on different shades. Although it looks light in the tube, when it dries down it kind of has a purple hue to it. I have naturally darker lips, so it looks deep on me, which is why I love deep pinks and purple shades. On my lighter friends, it comes up as a wearable pink. If you're not going for that Barbie Pink look, this is the shade for you.
All weekend I'll probably be convincing myself I don't need this product, but come Monday I will probably be placing an order! The limited-edition Posie K Anniversary Lip Trio will be up for grabs on 3 p.m PST on Feb. 5.