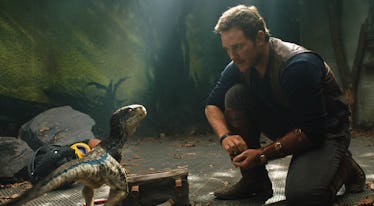 We Know When 'Jurassic World 3' Is Coming Out & Fans Are Going To Be Disappointed
Universal Pictures
The second Jurassic World movie isn't even out yet, but now we already know when the third movie is dropping. Honestly, since we still have months to wait before Jurassic World: Fallen Kingdom is released, nobody was even wondering when does Jurassic World 3 come out, but surprise: We just got the premiere date! The only downside is that fans are going to have to wait a pretty long time for the next epic dinosaur adventure to hit the big screen after this summer.
Universal Pictures just confirmed that it will remain solid on the three-year wait period between each of its Jurassic World film. After the Jurassic World sequel drops this summer, fans will have to wait another three years for the next prehistoric blockbuster to hit theaters. Jurassic World 3, which still does not have an official title, will premiere on June 11, 2021, per Variety. The new movie will follow up the events of Jurassic World: Fallen Kingdom, which does not premiere until June 22 of this year, marking almost exactly three years since the first Jurassic World premiered in June of 2015.
The Jurassic World 3 premiere date news was also accompanied by a new addition to the writing team. Screenwriter Emily Carmichael will be co-writing the new movie's script with Colin Trevorrow, who penned the first two movies. Though Carmichael is best known for her work in animated projects, she recently got another huge, CGI-filled blockbuster writing job as one of the writers for the upcoming sequel Pacific Rim Uprising. The Jurassic World gig will mark the second time that Carmichael will have teamed up with Trevorrow — she is also working with him on the upcoming family action film Powerhouse, which is based on an original story by Trevorrow. When Trevorrow announced his first partnership with Carmichael in 2016, he sang her praises, calling her "the next great writer-director of the kind of movies I love ... Her ability to find warmth and humanity in genre storytelling is a superpower in itself."
Of course, it is way, way too early to have any clue what Jurassic World 3 will be about, or any other details about the movie that is three and a half years away. First, fans have this summer's Jurassic World: Fallen Kingdom to look forward to, which will see Chris Pratt's dino-trainer Owen Grady teaming up again with Bryce Dallas Howard's operations manager turned activist Claire Dearing in an attempt to save the dinosaurs from the now de-commercialized Isle Nublar from an impending volcanic eruption. Fallen Kingdom will hit theaters on June 22.
It's unclear how long Universal Pictures will stretch out the rebooted Jurassic Park franchise. The original Jurassic Park franchise ran for three movies throughout the '90s, and this announcement marks the third movie in the rebooted Jurassic World franchise, but don't expect the dino movies to necessarily stop after Jurassic World 3 drops in 2021. The first Jurassic World became the highest-grossing movie that Universal Pictures has ever released, and reboot mania coupled with the current fervor for big-budget, CGI-fest sci-fi adventure movies makes the Jurassic World movies a surefire home run at the box office. With reboots, sequels, and sprawling action franchises dominating the movie industry, Jurassic World may very well continue to release more follow-ups than just three.
Before Jurassic World 3 comes to theaters on June 11, 2021, the Jurassic World sequel, Jurassic World: Fallen Kingdom will premiere this summer on June 22, 2018. Be on the lookout for the sure-to-be cliffhangers in that movie, since we already know the writers are working on the next movie right now.