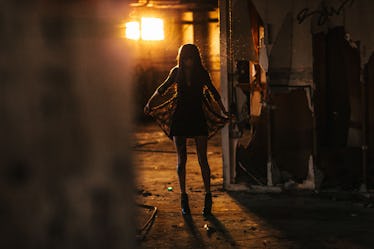 You Might Catch A Break When Jupiter Goes Direct, So Here's When To Pay Attention
Jupiter in Scorpio has been one of the most incredible yet absolutely terrifying transits I've ever experienced. The planet of expansion stationed retrograde this March, in what is known as the most intense sign of the zodiac. Now, for the million dollar question, when does Jupiter Retrograde 2018 end? Lucky for us, Jupiter will turn direct on July 10 at exactly 1:02 p.m. ET. We're almost there, star gazers, but before I tell you what Jupiter Direct has in store for us, here's a quick overview of this unforgettable transit.
In astrology, Jupiter is the planet of faith, luck, healing, and expansion. This planet is outspoken and truth seeking. Its energy is similar to a magnifying glass, exposing and amplifying everything it touches. Its philosophical influence encourages us to expand our minds and see the bigger picture, which in turn, can help shape our society. This is where it gets even more interesting. Every 12 to 13 months, Jupiter enters a new zodiac sign, sprinkling abundance and truth. Its over-the-top generosity makes it easier to grow through that specific zodiac sign's energy and purpose.
For instance, back in September 2016, Jupiter was making his annual visit in fair-minded Libra, shedding light where justice wasn't being served. From human rights protests to supporting the LGBTQIA+ community, Jupiter in Libra encouraged compromise and equality. Oh, and we all know that men are from Mars and women are from Venus, right? It just so happens that the Women's March was held during Jupiter in Libra, and Libra also happens to be ruled by planet Venus. Is it still just a bunch of hocus pocus?
Fast forward to Oct. 10, 2017, when Jupiter left justice-seeking Libra and took a dive into Scorpio's deep and murky waters. That same day, actresses like Angelina Jolie, Gwyenth Paltrow and more, accused Hollywood producer Harvey Weinstein of sexual assault and harassment, ultimately sparking the #MeToo movement. This was obviously the culmination of many women and journalists working together to gain overdue justice for women who have been harmed, but as an astrologist, for me it's interesting to look at what was going on with the planets during those times as well.
Hello, Jupiter in Scorpio.
Scorpio is ruled by Pluto, the god of the underworld. This zodiac sign represents all that is hidden and below the surface. Its energy is secretive, power hungry, and sexually obsessed. The overall theme of Jupiter in Scorpio is mystery and soul healing. This transit is teaching us how to find light within the dark, while bringing us closer to our soul karma and ancestors in the spirit world. Scorpio is the detective of the zodiac, and with Jupiter involved, our deepest secrets are slowly but surely coming to the light. The last time Jupiter was in Scorpio was from October 2005 to November 2006. Do you remember your life 12 years ago? How far have you come since then?
Jupiter Retrograde
Jupiter stationed retrograde in Scorpio on Mar. 8, and will turn direct on July 10. This retrograde period brought light to all that needed to be healed and transformed within us. This was a major cosmic cleanse, and for many of us, the beginning of a brand new journey. Jupiter Rx in Scorpio pushed us to confront our fears, darkness, and inner demons. Our shadows have slowly been revealing themselves to us, which in turn, brought a deep catharsis.
Jupiter Goes Direct
Are you still afraid of the dark? Jupiter direct is the beginning of your best life. Think about it: How many times have you purposely stopped yourself from doing something all because of fear? How many nights did you fall asleep wondering why you felt bothered, angry, or hurt, and yet still had no explanation as to where these emotions were coming from? Well, rest assured, those days are over. You made it. You shook hands with your demons. You confronted your shadow self. Embracing both the light and the dark is a form of self mastery, and Jupiter in Scorpio did just that.
Now it's your turn to rise again, just like a phoenix.