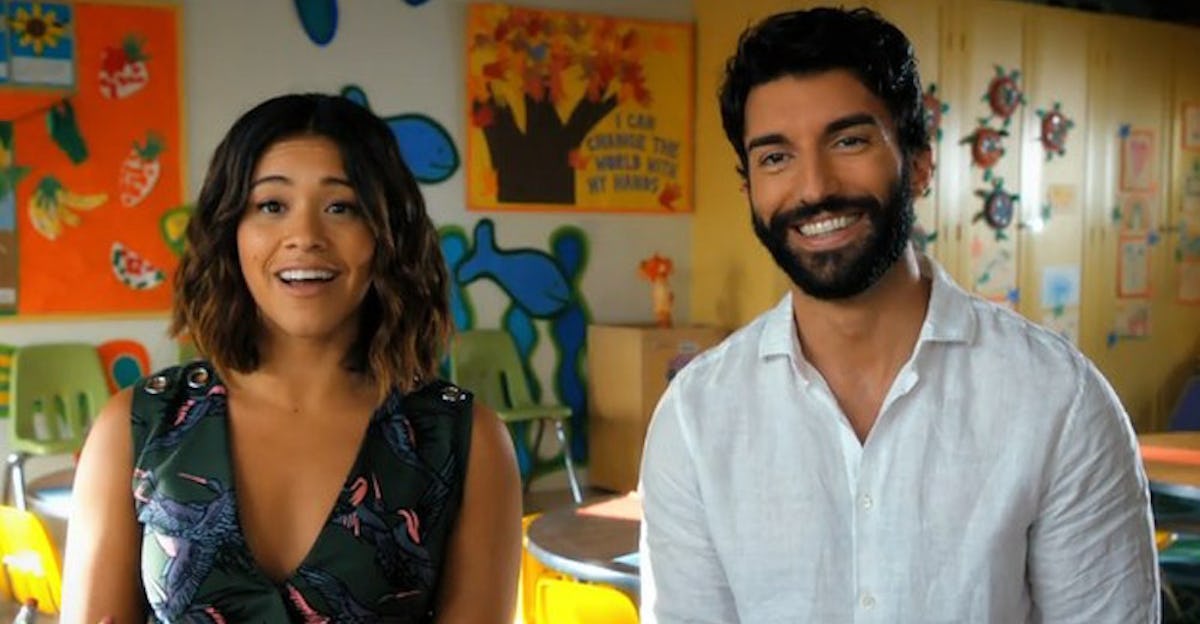 'Jane The Virgin' Is Breaking For The Holidays, Here's When It Comes Back
CW
Just when things are heating up on Jane the Virgin, the show leaves us on the edge of our seat. After this Friday's fall finale, your favorite telenovela will be off the air for over a while, but never fear, because the Jane Gloriana Villanueva will be back in your lives shortly after the new year begins. So when can you expected Jane the Virgin to return to air? And what can we look forward to in the latter half of Season 4? Let's get into everything we know.
So, where we last left off, Jane had finally published her romance novel Snow Falling (inspired by her relationship with Michael), and it sure seemed like the show was pushing her closer and closer to reigniting things with Rafael. Oh, and let's not forget about all the craziness going on at the Marbella Hotel, where we just found out that Petra's twin sister Anezka has died of mysterious circumstances. If there's anything that Jane the Virgin loves more than crazy twists, it's huge cliffhangers, so get ready for this Friday's fall finale to end on an unexpected reveal that will keep you guessing all through the show's winter hiatus.
As for exactly how long you will be waiting to get answers, it will probably be about a month and a half. The CW has not announced when its shows will return from winter break and premiere in 2018 yet, but looking at when the past three seasons of Jane the Virgin returned is a great way to get a good idea of the timeframe. All of the past seasons staged their fall finale on the seventh episode of the season, which will be this Friday's (Dec. 8) for Season 4, and then they remained off the air until the end of January. Past seasons have fluctuated between returning on the last or second to last Monday (the show switched to airing on Fridays this season) of January, so you can likely expect this season of Jane the Virgin to return on either Friday, Jan. 19 or Friday, Jan. 26. It is difficult to try to narrow it down more than that without getting more info from the CW. The first two season of Jane only took 5-week breaks in the winter, which would seem to suggest that Jan. 19 is more viable, but last year's third season was off the air for 8 weeks before finally returning at the end of January. The best we can really do right now is look at both of those dates as the most likely options.
The other pretty upsetting news is that when Jane the Virgin does return from its break, we are getting less episodes than ever before. Season 4 only got picked up for 17 episodes, which is three less than last season and five less than the first two seasons. That means after the fall finale, there will only be ten new episodes that air in 2018.
Anyway, with the timeline hammered down, now we can focus on what stories Jane the Virgin will hit us with when it does come back. In terms of the crazy murder mystery part of the show, we need to find out why Anezka was killed, and if Rafael and Petra will ever get back control of the Marbella. That confusing high-drama always seemed secondary to Jane's story, though, and it looks like this season might finally get out heroine back together with Rafael. After all, she did just have to part ways with her old flame Adam, and her relationship with Raf is getting better than ever. I sense a little romantic reunion coming our way before Season 4 is over!