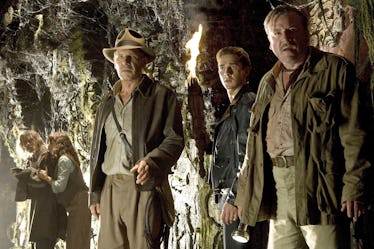 The Fifth 'Indiana Jones' Movie Has A New Release Date & It Won't Make You Happy
Paramount Pictures
Anyone hoping to see Indiana Jones on the hunt for legendary treasure or ancient relics sometime soon is out of luck. After the recent announcement that the fifth Indiana Jones movie wouldn't premiere in 2020 as once expected, fans now know how long the delay will be until a new story reaches the big screen. We still have quite the wait until the fifth movie hits theaters, so when does Indiana Jones 5 come out?
Despite franchise director Steven Spielberg initially hoping that production on the film would begin in spring 2019, news that filming wouldn't start next year broke this past June. The movie was originally scheduled to debut on July 10, 2020, but after making some changes to its upcoming film release schedule, Disney has announced that the new movie will hit theaters on July 9, 2021. Well, to look on the bright side, less than three years to go, guys!
While Spielberg and franchise star Harrison Ford are still linked to the upcoming project, the delay in production is reportedly because of script changes. According to Collider, Jonathan Kasdan, the son of Raiders of the Lost Ark screenwriter Lawrence Kasdan, has replaced original writer David Koepp on Indiana Jones 5, seemingly meaning that a storyline for Indiana Jones 5 hasn't been solidified yet. Kasdan also wrote Solo, so I guess he's the go-to guy for stories starring Harrison Ford and any versions of his original characters.
The movie's date change comes after Disney rearranged and announced other premiere dates of much-anticipated films. The debut of Mary Poppins Returns was moved up a week to Dec. 19, 2018, while Maleficent 2 will hit theaters on May 29, 2020.
With the film now locked for a 2021 release, it'll mark 13 years since the last Indiana Jones movie in 2008. The franchise has always reflected real-life time gaps, meaning that because 2008's Kingdom of the Crystal Skull took place in 1957, the new film will likely be set in 1970. Do you think Indy will sport a pair of groovy bell bottoms or hit up a disco?
Although Spielberg and Ford haven't directly addressed the delay in filming, Ford has only ever spoken positively about the prospect of a fifth film. In 2016, while on Jimmy Kimmel Live!, Ford spoke out about soon returning to another of his iconic characters, saying:
The opportunity to work with Steven again and the chance to revisit this character which has brought pleasure to so many people — not to mention, me. It's great fun to play this character. It's great fun to work with Steven. I'm looking forward to it.
Aww. He may come across as a bit of a curmudgeon in his old age, but if Harrison Ford can be excited about this so long after the last movie, so can we.
In 2016, Spielberg also confirmed that composer John Williams would return to score the fifth movie. Fans probably don't have to hold their breath for an unwanted return of Mutt Williams, though. The character introduced in Kingdom of the Crystal Skull and played by Shia LaBeouf wasn't exactly welcomed warmly by fans, and LaBeouf doesn't expect to return for any sequels either. Ah, well, I'm sure we'll all get over it.
Obviously, Ford isn't as young as he used to be, but to Spielberg, his lead actor's age has no effect on how the fifth film's story may play out. Although his filming timeline has drastically shifted since he made these comments, Spielberg told the New York Daily News in 2016:
As Harrison matures so does his character... He keeps himself in such brilliant physical shape that I don't believe when 2018 comes around, which is when I'm slated to direct the fifth installment...I think Harrison is going to be able do a lot of what the script is asking him to do.
Here's hoping that the rest of the Indiana Jones 5 production goes smoothly. Indiana Jones 5 will be in theaters on Friday, July 9, 2021.