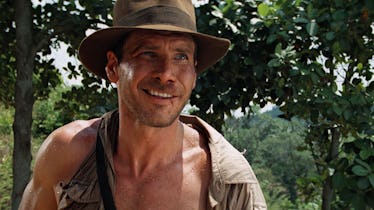 The Fifth 'Indiana Jones' Movie Is Officially On Its Way, So Grab Your Hat & Lasso
Paramount Pictures
The official "reboot" of the Indiana Jones franchise came ages before revitalizing classic film series was the hottest trend. Indiana Jones and the Kingdom of the Crystal Skull launched in 2008 and wasn't exactly revered by purist fans, but franchise director Steven Spielberg seems optimistic about winning back haters' trust. He's following through on plans to make a fifth Indiana Jones film and has spilled a hint about when its production will start. So, with a filming schedule coming together, when does Indiana Jones 5 come out?
As Kingdom of the Crystal Skull approaches the tenth anniversary of its theatrical run, Spielberg announced at a recent event in London that he plans to shoot the new movie next year and film part of it in England. While accepting a Legend of Our Lifetime award at the Rakuten TV Empire Awards, Spielberg said:
It's always worth the trip when I get to work with this deep bench of talent coming out of the U.K. The actors, and the crew, the chippies, the sparks, the drivers — everybody who has helped me make my movies here when I come back in April 2019 to make the fifth Indiana Jones movie right here.
The final product is scheduled to hit theaters on July 10, 2020. Seeing as Kingdom of the Crystal Skull reflected the real-life time gap between it and its predecessor Last Crusade, we could assume that the untitled fifth film will take place in 1969, 12 years after the 1957 setting of the fourth movie.
Although major plot details are under wraps, the movie's screenwriter David Koepp confirmed last year that Mutt Williams, a new character introduced in Kingdom of the Crystal Skull, won't appear in the new sequel. Played by Shia LaBeouf, Mutt was revealed to be Indiana's son, which didn't sit well with many viewers. In a 2010 interview, LaBeouf admitted that he wasn't satisfied with his work in the film, so it's not a huge surprise that Mutt won't pop up in the franchise again:
I feel like I dropped the ball on the legacy that people loved and cherished. You get to monkey-swinging and things like that and you can blame it on the writer and you can blame it on Steven [Spielberg, who directed]. But the actor's job is to make it come alive and make it work, and I couldn't do it. So that's my fault. Simple.
Harrison Ford, clearly a purist in his own way, apparently wouldn't agree to doing another film if Spielberg wasn't involved in it. In a 2016 interview with BBC, Ford said:
I've always thought there was an opportunity to do another. But I didn't want to do it without Steven [Spielberg]. And I didn't want to do it without a really good script. And happily we're working on both. Steven is developing a script now that I think we're going to be very happy with.
Celebrating his 77th birthday in 2019, Ford also seems to have no qualms about doing an action film at such an older age. I mean, the man has survived several plane crashes, so I guess those incidents have knocked out any fears for him. In 2016, Spielberg also said that Ford's age wouldn't affect his ability to play the beloved adventurer:
As Harrison matures so does his character and yet he did so many of his own stunts in [Star Wars:] The Force Awakens. He keeps himself in such brilliant physical shape that... I think Harrison is going to be able do a lot of what the script is asking him to do.
It looks like the Indiana Jones franchise will be embracing its roots in the new film. Let's hope that Harrison Ford steers clear of the cockpit in any aircrafts until filming begins.