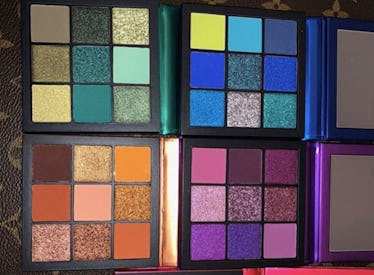 Huda Beauty Is Dropping A Precious Stones Eyeshadow Collection & You'll Want To Buy Every Palette
If you've been browsing around for some new eyeshadows for fall, but haven't found the perfect palette just yet, Huda Kattan may just be the woman to save the day. Huda Beauty's Precious Stones Collection will be dropping very, very soon, and they are absolutely gorgeous. On Sept. 4, the cult-favorite brand posted a photo of the five new mini palettes to Instagram with the caption, "They're here #HudaBeautyPreciousStones!!! Super intense pigmentation and creamy shimmers! Can't wait for you guys to try them Who's excited? Which one is your fav?"
Of course, followers went nuts in the comments, collectively sharing that they couldn't wait to get their hands on the new products. And while the eyeshadows won't be available for purchase right away, Kattan promises that they'll definitely be worth the wait.
"Since you guys loved our first collection of Obsessions palettes so much, we decided to extend the range with a super luxurious new collection," she wrote on the Huda Beauty blog, later adding, "Rich, bold colored eyeshadows are so hot right now, so whatever your fav shade is, these will keep your look on trend for fall."
The new palettes, each inspired by gem stones, will appropriately be named: Topaz Obsessions, Amethyst Obsessions, Ruby Obsessions, Sapphire Obsessions, and Emerald Obsessions, and each palette will go for $27 a pop.
Now let's get into the details of each palette, shall we? First up, Topaz will boast beautiful neutral shades of gold, blush, and orange. Amethyst will be a combination of pinks and purples — great for when you're looking to do a fun, bold eye! Ruby will be a combination of super bright reds and pinks to give you a sultry look, and Sapphire will combine blue and silver to give you a unique finish. Finally, Emerald is a mix of greens and blues that will leave you having "Wild Thoughts."
Just like the original Obsessions palettes, each product in the new collection will feature nine pans, with a combination of both "duo-chrome shimmers and matte shadows," so you can take your look from subtle to extra glam in no time.
"These are such beautiful, pigmented palettes!" Kattan said in a statement. "I honestly love the shades in each of these so much – they are perfect for getting a super dramatic look but also great for adding a little bit of colour to your eyes. Bright, rich coloured eyeshadows are so hot right now and I can't wait to see people playing around with different looks."
If you can't wait to get your hands on the newest additions to the Huda Beauty crew, thankfully, you won't have to wait very much longer, because the Precious Stones Collection will be joining the Obsessions family at sephora.com on Sept. 18, and will launch in-store on Sept. 20!
So if you're ready to add some new palettes to your makeup bag just in time for fall, definitely mark your calendars, because these products will be sure to sell out in a flash.