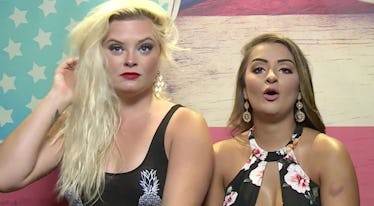 'Floribama Shore' Season 2 Is Coming & It's Going To Have Double The Episodes
MTV
The Floribama party isn't stopping! On Monday, Floribama Shore aired its Season 1 finale, but ahead of the farewell episode, MTV announced that the reality show is being picked up for a second season, which will premiere pretty soon. So when does Floribama Shore Season 2 air, and how can we expect the show to change things up this time around? Let's get into all the details.
It is very clear that Floribama Shore must have been a huge success for MTV, because the network ordered a whopping 20 episodes for the show's second season. That's more than double the length of the 8-episode first season, and it is also considerably more episode than its predecessor Jersey Shore ever had in a season. At its peak, Jersey Shore reached up to 13 episodes per season... I guess now MTV wants more Shore than ever before. Another exciting detail for Floribama Shore fans is that you will not have to wait long for the second season to premiere. The show just wrapped up its first season on Monday night, but the cast is about to jump back in again for its new season, which will start airing sometime in the summer.
With that massive 20-episode renewal, there's no question that MTV is pretty much placing all its eggs in the Floribama Shore basket. The network is also reviving Jersey Shore later this year as Jersey Shore: Family Vacation, reuniting the original cast of guidos and meatballs that first put the Shore franchise on the map back in 2009. Of course, this will just be the latest in a string of reunions among the Jersey Shore cast, with the two get-togethers that happened last year being more disappointing to fans of the original series than anything else. After some pretty solid build-up, the Jersey Shore cast reunited twice towards the end of 2017: one turned out to be an ad for Burger King and the other was a brief road trip special on E!. But maybe now that Jersey Shore is returning to its original home on MTV for this upcoming reunion it will be better.
Even if Jersey Shore: Family Vacation turns out to be blah, we still have Floribama Shore, which has proven to totally recapture the messy, drunken magic of the original Jersey Shore. Floribama Shore's first season may have only consisted of 8 episodes, but it was still absolutely packed with ridiculousness, including a lot more public urination and bar fights than any show really has a right to. The premiere season wrapped up on Monday night with a sweet finale episode, which had the eight castmates invite their families over for one last party at the shore house before camping out on the floor together for a farewell sleepover. It was actually really sweet.
Floribama Shore premiered at the end of November, bringing together eight 20-somethings who took great pride in being from the American south into a Panama City Beach house. Some of the hallmark moments from the first season include Nilsa's constant heartbreak over whichever guy she is crushing on, Kortni's 24/7 state of brilliant drunken stupor, Jeremiah yelling about how he was homeschooled for some reason, and of course, ever wonderful, enchanting thing that came out of Aimee's mouth. Oh, and also the fact that I think every single episode ended with the entire cast getting in an actual fistfight with one another or with a group of strangers while out at a club.
With a massive 20 episodes included in Season 2 of Floribama Shore, you can bet that we are going to be seeing a whole lot more fighting. If you live near Panama City Beach, please be careful out there.