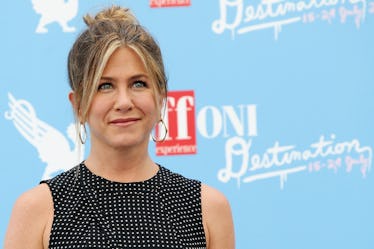 Jen Aniston Is Playing The President In A New Political Comedy & I Am Living For It
Vittorio Zunino Celotto/Getty Images Entertainment/Getty Images
Netflix, are you in my brain or something? The streaming service just announced a new political comedy starring Jennifer Aniston and Tig Notaro, and it's everything I didn't know I needed. The movie will follow Aniston as the first female president of the United States, and Notaro will play her wife, the First Lady. Yup, you read that right: Jennifer Aniston is playing the first female and first gay president, and it sounds amazing. So, when does First Ladies hit Netflix? Now that I know about this movie, I need it in my life ASAP.
First Ladies is still in the early stages, so it's likely that the movie won't hit Netflix until 2019. This is pretty unfortunate, because a movie with a tagline like, "When Beverly and Kasey Nicholson move into the White House, they'll prove that behind every great woman… is another great woman," could greatly improve 2018. But that being said, there are plenty of reasons to get excited in the meantime. The script is currently being written by comedy wizard Notaro and her wife, Stephanie Allynne. In the past, the two have collaborated on Notaro's hilarious Amazon Prime series One Mississippi, so you know First Ladies is about to totally kill it.
Notaro and Allynne will also be producing the Netflix movie alongside Aniston and a few other famous names: Adam McKay and Will Ferrell. Sound familiar? If you think Talladega Nights, Step Brothers, and Anchorman are even a little bit funny (and if you don't, who hurt you?) then you'll love First Ladies.
Aniston and Notaro are no strangers to Netflix, although First Ladies may be their most high-profile Original project. Notaro has a new comedy special premiering on the platform on May 22 titled Tig Notaro Happy To Be Here, which promises to be filled with her unique brand of personal comedy. According to Variety, Notaro is also directing Ellen DeGeneres' new Netflix comedy special, set to premiere sometime in 2018.
Aniston also has a good relationship with Netflix — and no, it's not because Friends is playing on at least 80 Netflix accounts at any given moment. In March, the actress signed on to the comedy Murder Mystery alongside Adam Sandler, who has basically become Netflix's biggest movie star in the last few years. In Murder Mystery, Sandler plays a New York City police officer who travels to Europe with his wife (Aniston) and suddenly becomes the prime suspect in the murder investigation of a billionaire. Hopefully, Murder Mystery gets better reviews than Sandler's most recent Netflix movie, The Week Of, which currently has a 22% rating on Rotten Tomatoes.
If you're desperate for a Jen Aniston fix before Murder Mystery and First Ladies hits Netflix, you're in luck. The actress' next project, Dumplin', will premiere sometime in 2018 and sounds equally amazing. The musical comedy (!!!) is about a self-proclaimed fat teenager who attempts to follow in her beauty queen mother's footsteps by entering in a local pageant. Unsurprisingly, Aniston plays Rosie Dickson, the beautiful but vain mother of Willowdean (Danielle Macdonald), aka Dumplin'. Dumplin' is based on a #1 New York Times bestselling book of the same name by Julie Murphy, but all-star director Anne Fletcher — who also directed hits like 27 Dresses and The Proposal — will add her own spin on the novel.
And as if this project weren't amazing enough, Dolly Parton will also be involved. The iconic singer told E! News that her older music will be featured in Dumplin', and she'll also be writing original songs for the new film:
In the book [Dumplin'] was a Dolly fan and loved her music. And so it inspired her in her life, and so of course they're using a lot of my music from the old days, but they asked me to write some new pieces and a theme song ... So I'm working with Jennifer on that and a soundtrack album and so I'm excited about that.
All hail Queen Dolly Parton! Maybe she'll make a cameo in First Ladies?