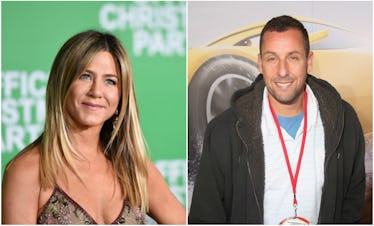 Jennifer Aniston & Adam Sandler Are Teaming Up For A New Movie & You Know It'll Be Good
Matt Winkelmeyer/Getty Images Entertainment/Getty Images & Jesse Grant/Getty Images Entertainment/Getty Images
His three-time co-star Drew Barrymore is pulling hard for their reunion, but for now, Adam Sandler has another co-star to reunite with for his next project. In a continuation of his four-movie deal with Netflix, Sandler will play opposite previous co-star Jennifer Aniston in the new Netflix comedy film Murder Mystery. Aniston will make her Netflix debut with the film, while the project marks Sandler's sixth project with the streamer. So, when does Murder Mystery premiere on Netflix?
The two comedic stars first worked together on 2011's Just Go With It as the clear lead stars, but Murder Mystery will be more of a group effort, as The Hollywood Reporter says that the movie is being billed as an ensemble comedy. Aniston and Sandler will star as a working-class New York couple who embark on a long-awaited European trip, but their vacation takes a quick turn when they end up at a family party party on an elderly billionaire's yacht. The billionaire is soon murdered, pegging Sandler and Aniston's characters as the top suspects in the homicide case.
Written by White House Down screenwriter James Vanderbilt, the comedy sounds like it could have a equal mix of seriousness and humor. Currently, there are no clues about when the movie will premiere on Netflix, but we should hear of an official release date around the end of the year, if not earlier. It's pretty predictable that Aniston will play the calm and collected wife while Sandler is the goofy husband, but I wouldn't have it any other way. Judging by their similar kind of chemistry in Just Go With It, why would you fix something that worked so well the first time around?
OK, so Just Go With It was far from being cinematic gold, but it was always clear that Aniston and Sandler enjoyed working with each other and just having fun during the experience. In an interview promoting the film in 2011, Aniston basically admitted that she knew the movie wouldn't win over audiences, but Sandler had convinced her to literally "just go with it."
Speaking to Entertainment Tonight in 2011, the two revealed that they first met in their early 20s, kicking off a friendship of Aniston following Sandler's comedy career through his stand-up routines and time on Saturday Night Live. While filming Just Go With It, Aniston even pulled the ultimate friend move by picking out a pair of high-end shoes for Sandler's wife. So how exactly do I become shopping buddies with her?
Sandler, who signed his original production deal with Netflix in 2014, previously starred in the streaming site's The Meyerowitz Stories. According to Variety, his first few projects with Netflix went over so well that he signed another four-picture deal with the company in 2017. Next month will bring the premiere of his latest feature with Netflix, The Week Of, which stars Sandler and Chris Rock as the fathers of an engaged couple experiencing the week before their wedding. His frequent onscreen partner Drew Barrymore also works with Netflix for her TV series Santa Clarita Diet, creating speculation that a potential reunion for the two would occur on a Netflix project.
While Aniston hasn't worked with Netflix before, she has totally embraced non-traditional platforms for TV and movies. Her upcoming Apple drama series with Reese Witherspoon is already planning two seasons of 10 episodes each, which means that we could be seeing plenty of Aniston in both TV and movies in the next year or so. Thank goodness for streaming sites!
Murder Mystery seems perfect for a cozy night of belly laughs, and while it looks like 50 First Dates fans have to wait a little longer for Sandler to reunite with Barrymore, his second onscreen pairing with Aniston will definitely suffice for now.