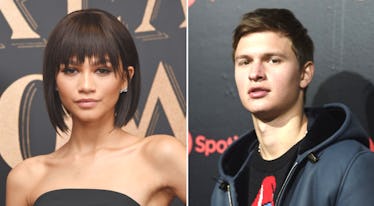 Zendaya, Jake Gyllenhaal & Ansel Elgort Are Teaming Up For A Mobster Movie & We're Hype
Michael Loccisano/Getty Images, Jamie McCarthy/Getty Images
Two of 2017's biggest breakout movie stars are officially teaming up for a crime thriller with Jake Gyllenhaal, and it already sounds like the coolest movie ever. Zendaya and Ansel Elgort will star in Finest Kind, a new mobster movie that will see the buzzy young actors working with Gyllenhaal to survive the dangerous world of Boston's underground crime syndicate, according to Deadline.
Finest Kind will star Ansel Elgort and Jake Gyllenhaal as brothers, who find themselves embroiled in a Boston crime mob after making a risky deal with criminals. Zendaya's role has not been revealed yet. Another exciting element about the upcoming movie is that it will be written and directed by Brian Helgeland, who is one of the four writers currently working on a Game of Thrones spinoff series for HBO. Helgeland is also a master of the crime thriller genre, having penned the Oscar-winning script for 1997's noir flick L.A. Confidential and the Oscar-nominated script for 2003's murder mystery Mystic River.
Both Ansel Elgort and Jake Gyllenhaal have recent experience in the crime thriller genre — Elgort gained widespread acclaim for starring in the 2017 high-octane heist movie Baby Driver, and Gyllenhaal took on seedy thriller parts in both 2014's Nightcrawler and 2016's Nocturnal Animals.
However, this will be the first time Zendaya will have taken on the genre, which will be a gritty new move for her following her sarcastic high schooler in last year's Spider-Man: Homecoming and lovestruck, singing trapeze artist in The Greatest Showman. The casting announcement also comes closely after Zendaya bid farewell to her Disney Channel era following the series finale of her show K.C. Undercover. This gritty new role in Finest Kind sounds like it will be Zendaya's biggest step away from her child star status yet.
Both Zendaya and Ansel Elgort had major breakout years in 2017. Zendaya landed her first two major movie roles after her years of TV work, and both were as the female lead in huge blockbusters — she joined the Marvel Cinematic Universe as MJ Jones in Spider-Man: Homecoming and costarred with Hugh Jackman and Zac Efron in The Greatest Showman. For his part, Ansel Elgort had been something of a mainstay in major teen movies (particularly those that costarred Shailene Woodley) like Divergent and The Fault in Our Stars for a few years, but found critical acclaim for showing off an edgy new side in Edgar Wright's car chase-filled action movie Baby Driver, even earning a Best Actor nomination at the Golden Globes.
Following their splashy year in movies, Zendaya and Ansel Elgort have both been filling up on a number of exciting new film roles. Along with Finest Kind, Zendaya is slated to return for a Spider-Man sequel and will star in an Anita Hemmings biopic called A White Lie, telling Hemmings' story of lying about her race in the late 1800s in order to become the first African American woman to graduate from Vassar College. Elgort is also signed on to star in the based-on-true-events crime drama Billionaire Boys Club and will helm the upcoming big-screen adaptation of The Goldfinch.
As for when we can expect to see Finest Kind in theaters, it will probably be a bit of a wait since the movie has only just been announced — we don't even know who will be playing the villain yet. But since it is still so early in the year, fans can most likely expect to see Zendaya, Ansel Elgort, and Jake Gyllenhaal get their crime on before the end of 2018, maybe around fall if they are eyeing awards season recognition.