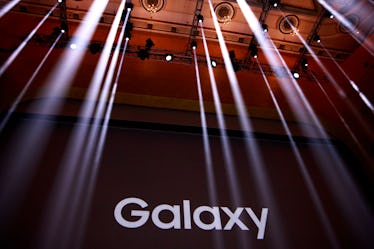 You Can Pre-Order Galaxy Note 9 SO Soon, So Get Pumped
Drew Angerer/Getty Images News/Getty Images
Android users, rejoice: A bevy of Samsung products were announced on Aug. 9 during the company's Galaxy Unpacked event. The new devices are so futuristic that you're probably wondering when you can pre-order the Galaxy Note 9. Thankfully, you won't have to wait very long. In fact, you won't even have to wait a full 24 hours to order the latest and greatest Galaxy model.
Get your wallet out and hang out by your computer until the sun goes down, because you'll be able to pre-order the Galaxy Note 9 starting at midnight on Friday, Aug. 10. Samsung is wasting no time, considering the company announced the new phone on Thursday. If you watched a live stream the Galaxy Unpacked event — which took place in Brooklyn, New York on Aug. 9 — you probably know how incredible the mobile device is. Therefore, I don't blame you if you plan on staying up late and ordering the new phone when the clock strikes twelve. In order to do so, head to Samsung's website when the time comes.
However, just because you pre-order the Galaxy Note 9 doesn't mean you'll have it delivered the next day. Sorry, y'all; it doesn't work like that. The Galaxy Note won't be available until Aug. 24, which means you'll still have to wait a few weeks to get your hands on the out-of-this-world phone. Even so, a few measly weeks isn't that long. If you're patient, time will fly, and you'll have a brand new Galaxy in no time.
So, why should you go out on a limb and order the Samsung Galaxy Note 9? For starters, it comes in four beautiful colors. Depending on which country you order the phone in, you can choose from Ocean Blue, Midnight Black, Lavender Purple, and Metallic Copper. You should keep in mind that all of these colors might not be available in the United States. As of right now, only Ocean Blue and Lavender Purple are available on Samsung's website. According to Android Authority, the same thing happened last year with Samsung's Galaxy launch. (So, hopefully you like blue and purple.)
Color isn't the only appealing aspect of the Galaxy Note 9. The brand new phone also features an all-day battery, which is the largest battery to date on a Galaxy Note product. That's a huge selling point to me, because I hate constantly carrying my charger around. Plus, there's nothing worse than losing battery when you're trying to search the web or order an Uber. Luckily, the Galaxy Note 9 will help users keep their charge for 24 hours, so they won't have to worry about losing connectivity at times in need.
If you'd rather add a new wristwatch to your collection of technology, might I suggest Samsung's new Galaxy Watch? The new smart watch is comparative to the Apple Watch, coming with impressive features and new colors (including rose gold). You can make calls, answer texts, and keep up with your fitness using the device, so it might be a fun option if you're not ready for a new phone.
For those of you who are convinced that you need a new Galaxy Note 9, I understand. Pre-order for the device starts Aug. 10 at midnight.