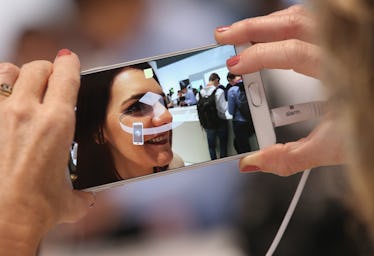 This Is When You Can Get The Galaxy Note 9, So Get Excited
Sean Gallup/Getty Images News/Getty Images
Samsung unveiled their latest smartphone at the Galaxy Unpacked event on Thursday, Aug. 9 at the Barclays Center in Brooklyn, New York. The Galaxy Note 9 is the newest state-of-the-art phablet from the company. From an upgraded battery life to new and improved camera features, the Galaxy Note 9 is shaping up to be Samsung's best phone yet. When will the Samsung Galaxy Note 9 be released? It will be available for purchase sooner than you think.
If you have been eyeing the Samsung Galaxy Note 9, I don't blame you. The phone looks absolutely incredible. I'm always anxious to get my hands on the latest technology. The Samsung Galaxy Note 9 isn't available for you to purchase just yet. You won't be able to get your hands on one until its actual release date which is Friday, Aug. 24. Starting on Friday, Aug. 10, the high-tech phone will be available for pre-oder via the Samsung website. That's a pretty quick turnaround, IMO. Samsung just announced the Galaxy Note 9, calling it "the most powerful mobile device" at the Galaxy Unpacked event on Thursday, Aug. 9.
The Galaxy Note 9 is the most impressive smartphone yet from Samsung. It offers a slew of new features including an all-day battery life. There's nothing worse than looking at your phone and realizing you don't even have enough battery life to get you through that two-hour afternoon meeting. The Galaxy Note 9 has a 24-hour battery life cycle. The Note 8 and the iPhone X, 8, and 8 Plus all come close, but are still a few hours shy of the golden 24-hour mark.
The Galaxy Note 9 camera is also quite remarkable. It features dual-lens technology and is smart enough to adjust the aperture settings no matter what type of lighting you are shooting in. I'm going to go out on a limb and say your best Instagram pics are still to come. Once you get your hands on this bad boy, you'll be the shining star of your Instagram followers.
Not only is the camera smart enough to adjust to whatever lighting setting you're shooting in, but it can also tell you when you need to retake a picture. If your subject blinks or moves, the camera will send you a notification. That way, you can try again for the perfect picture before moving onto something else. The spiffy new camera also has a supersize dual image sensor that allows you to shoot slow motion video. You can slow the moving image down to a fraction of a second, so you don't miss a single moment.
It also comes with a Bluetooth-enabled S stylus pen. The pen basically functions as a remote control for your Galaxy Note 9. You can use it to take pictures, too, so say goodbye to your selfie stick. Additionally, the Galaxy Note 9 has 512 GB of internal memory and 1 TB of expandable memory. That's huge. In fact, that's more storage space than some laptops.
Samsung is touting the Galaxy Note 9 as the most powerful smartphone yet, and these are only some of the incredible features that the device offers. Get ready (and excited) to pre-order your very own Galaxy Note 9 start on Friday, Aug. 10 or buy it at a certified retailer on Friday, Aug. 24.