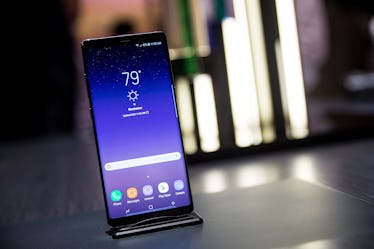 The Galaxy Note 9 Has An Epic Battery, So Forget Looking For An iPhone Charger
Drew Angerer/Getty Images News/Getty Images
A sustainable battery life is one of the biggest issues plaguing mobile devices these days. In today's constantly connected world, there's nothing worse than realizing your phone's battery is frequently dying (or close to it). If you're on the market for a new phone, it's important to know how the Samsung Galaxy Note 9 battery life stacks up against Apple's iPhone battery. After all, they are two of the most recognizable mobile devices out there. So, how does the Galaxy Note 9 batter compare to the iPhone's battery? The answer might surprise you.
On Thursday, Aug. 9, Samsung unveiled the Galaxy Note 9 at the Galaxy Unpacked event in New York. The Galaxy Note 9 touts an all-day battery life, which is an improvement over the Galaxy Note 8. The Galaxy Note 8 still has a very decent battery life, clocking in close to a full 24 hours, according to Tech Radar. There were some downsides, though. The Galaxy Note 8 never seemed to live up to its all-day battery reputation and took longer than expected to reach a full charge. The Galaxy Note 9 promises to deliver a faster and more reliable battery life, so you can send endless pics on Snapchat and mindlessly scroll through Instagram as long as you please. There's no getting around it, the Note 9 offers 24 hours of battery life and that is just unheard of. To check your battery usage on the Galaxy Note, navigate to Apps and then Settings. Search for battery and tap on battery usage to check out the breakdown of your Galaxy's battery life.
Then, there's Apple's iPhone. The iPhone has been in and out of the news for its battery life. Apple was accused of slowing down the battery life on older models of the iPhone. In a statement following the reported accusations, Apple denied slowing down older iPhone batteries and offered to replace sluggish out-of-warranty batteries for $29. The iPhone 8's battery life lasts about the same as the iPhone 7 and 7 Plus. The iPhone 8 Plus offers up to 21 hours of talk time, 14 hours of video playback, 13 hours of internet browsing, and 60 hours of audio playback. The iPhone 8 offers significantly less talk time at a mere 14 hours. The battery life of the iPhone 7 and iPhone 7 Plus are nowhere near as good as the iPhone X. The latest device from Apple lasts a good two full hours longer than previous models of the 7. But, it's relatively the same as the iPhone 8 Plus, though, with 21 hours of talk time, and an hour less of internet use and video playback, according to Apple. Both the iPhone X and the iPhone 8 Plus offer 60 hours of wireless audio playback.
The Samsung Galaxy Note 9 is the clear winner with a better battery life, but only by a few hours. Honestly, though, an all-day phone battery just can't be beat. I use my phone constantly, so this news is music to my ears. This could be enough to sway some mobile phone users away from Apple's iPhone, but loyalty runs strong for both brands.
As with any mobile device, the battery life tends to slow down over time. The phablets are highly regarded, but they can't do it all. After several years of normal wear and tear (and constant usage), it's no surprise that your phone's battery life isn't quite what it used to be. Diamonds aren't forever, and neither is your phone battery.