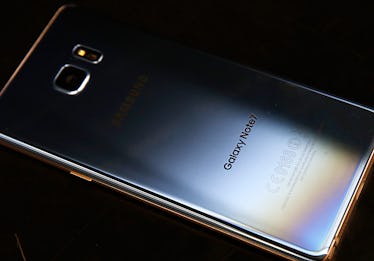 Android Users, Rejoice: Your Phone Batteries Won't Slow Down With Age
George Frey/Getty Images Sport/Getty Images
Phones are essential devices in many people's everyday lives. More specifically, high-performance phones are must-haves in order for most people to get through day (guilty). With the recent revelation that Apple has been using iOS updates to manage older iPhone batteries, you might have some questions about whether the battery life of your own smartphone is being handled in a similar way. Non-iPhone users are likely wondering, "Will my Android battery slow down like Apple's?"
The answer all Android users will be happy to hear is, no. Following Apple's confirmation that the company does, in fact, throttle phone performance on older iPhone models in order to preserve the battery life, its competitors are coming out to refute any possible claims that they follow a similar practice. Samsung and LG are two of the biggest producers of Android phones, according to Phone Arena, and they have both come out with statements regarding their best practices when it comes to preserving the life of your smartphone.
In statements emailed to Phone Arena on Friday, Dec. 29, both companies denied following any practices similar to Apple's battery intervention. LG simply stated, "Never have, never will! We care what our customers think." Dang, LG, don't hurt 'em! Samsung explained that they prioritize the quality of their product over everything else, and said, "We do not reduce CPU performance through software updates over the lifecycles of the phone."
These statements from Samsung and LG denying any practices that would purposely slow down a phone's performance come a day after HTC and Motorola both released similar statements in emails to The Verge on Thursday, Dec. 28. HTC categorized the practice of slowing down phones with older batteries simply as something they do not do. Motorola had a response similar to Samsung's when a Motorola spokesperson relayed to The Verge that throttling CPU performance on phone with older batteries is not their current business practice.
Again, all of these statements have been released in the wake of Apple admitting to purposely limiting how much power an iPhone processor can use in order to preserve the battery life (and prevent your from randomly shutting down) in older-version iPhones. Honestly, Apple trying to prolong your phone's life sounds like a good thing, but I think people were not down with the "sneaky" manner in which the update was utilized. Two lawsuits were recently filed against Apple questioning whether or not this is an ethical business practice.
Since then, Apple has come out with even more news regarding your iPhone battery. On Thursday, Dec. 28, the tech giant posted a letter on the Apple website and apologized for any miscommunication with how they've been handling their attempts to preserve the life of older-version iPhones. The company went on to explain that their goal is to make your iPhone last as long as possible, and after going into some specifics about how batteries age (e.g. like the number of times you've charged it or exposure to extreme heat or cold), Apple had some good news for iPhone owners looking to speed up their phone.
In addressing the concerns of Apple customers, the company announced that they will reduce the price of replacement batteries by $50 for iPhones with an expired warranty (models iPhone 6 or later). Apple will bring the battery price down from $79 to $29 beginning in late January 2018. Furthermore, 2018 will also bring an Apple iOS update aimed at improving your access to metrics that measure your iPhone battery's health and condition.
No matter how you feel about Apple intervening to prolong battery life, it appears to have resulted in companies speaking out and being very transparent regarding their business practices — which is usually a good thing. And if you're struggling with slow iPhone performance, you can get your hands on a much cheaper fix come January.
Check out the entire Gen Why series and other videos on Facebook and the Bustle app across Apple TV, Roku, and Amazon Fire TV.