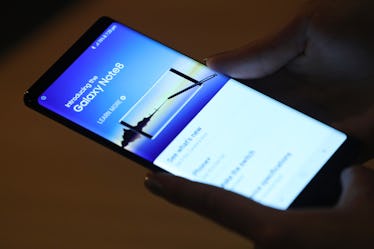 You Can Stream Samsung's Galaxy Unpacked Event, Because You Won't Want To Miss This
Sean Gallup/Getty Images News/Getty Images
I don't know about y'all, but nothing gets me more excited than hearing about the latest advancement in technology. We're always eagerly awaiting the latest iPhone, but Samsung has some equally exciting things in store for all of us. For those itching to know about what the company has up their sleeve, here's how to stream Samsung's Galaxy Unpacked event for your viewing pleasure.
The year 2018 may be intense, but at least it's offered us some pretty sweet smart devices. The 2018 Samsung Galaxy Unpacked event is set to happen Aug. 9 at 11 a.m. ET in Brooklyn, NY and even if you can't attend the conference in person, Samsung has made it easy for fans to livestream the event by just visiting the Samsung Galaxy Unpacked website. When the event starts, a livestream will populate on the page, so all you have to do is get the popcorn and sit back (and get your online shopping fingers ready for after). Seriously, it couldn't be any easier.
Watching a full livestream can take loads of dedication, but I have no doubt that the tech company will keep us entertained. Not only will we be able to catch a glimpse of the long-awaited Galaxy Note 9, but rumor has it that other new products, including a Samsung smart watch, will also be unveiled.
The annual Samsung Galaxy Unpacked events are known to wow techies worldwide, and the summit has unveiled some pretty rad products in the past, such as the Samsung Galaxy Note 8. We've already seen the incredible features Samsung S9 and S9+ offer, including a slo-mo feature and augmented reality emojis, so I can't even imagine all the incredible perks these new devices will have.
With all the excitement swirling around the event, and the buzz about these products, it's safe to assume that the livestream will take a few hours. However, I wouldn't be surprised if the company kept us on our toes during the whole livestream.
Whether you're team Samsung or team iPhone, you truly can't go wrong with either of these incredible smart devices. The Galaxy Unpacked event will feature loads of new and advanced technology, but for those asking when the new iPhone is set to launch, we apparently won't have to wait much longer.
According to Mac World, Apple plans to announce the new 2018 iPhones in September, possibly around Labor Day. Do you hear that? It's the sound of me unzipping my wallet and preparing to just throw money their way. Elite Daily reached out to Apple regarding a possible announcement date, but did not hear back.
The exact unveiling date for the iPhone might not be set in stone right now, but that hasn't stopped Apple fans from trying to learn all they can about the latest smart phone. Rumor has it, the secretive, and rumored, iPhone X might have a nifty new feature called "landscape mode," which means that it could work like an iPad. Of course, we have yet to know if this cryptic iPhone X even exists, but if it does, sign me up.
Start your engines, and fire up that live stream everyone. Let's see what Samsung has for us.