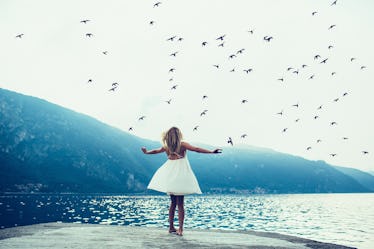 6 Things To Remember When Your Friends Are Getting Engaged & You Don't Have A Bae
When your best friends begin to get engaged to the loves of their lives, it's an extremely exciting time for the whole girl crew. From saying "I do," to those adorable bride tribe proposals, to shopping for beautiful bridesmaid dresses and planning lit bachelorette parties, what's not to be hella pumped about? Well, when all your friends are engaged and you don't even have a bae, it can seem like the whole world is low-key crumbling down beneath your (super freaking cute) leather booties. Naturally, you're ecstatic for your friends, but you can't help feeling like your heart is aching a bit. Well, let me clue you in on a little something: This time of your life is a blessing, not a curse. Although it may seem crummy at first that your friends are all rocking their bling, and you don't have a boo thing, let's focus on the many positives, shall we?
If you're currently on the single's boat, ready to sail off into the bittersweet sunset, or you're getting your bags prepped to board it soon, don't waste any of your precious time freaking the f*ck out, OK? At this very moment, all you should be doing is being the best friend you know how to be for your partners in crime, and focusing on checking things off your bucket list. This phase won't last forever, so don't take it for granted, either. When all of your friends are getting engaged, remember these six crucial things.