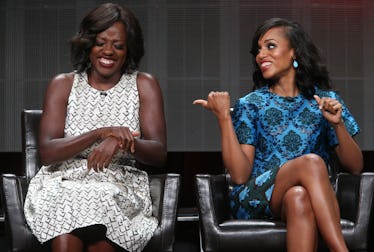 New Details On The 'Scandal' & 'HTGAWM' Crossover Are Here & We're Screaming
Frederick M. Brown/Getty Images Entertainment/Getty Images
Worlds will collide when Shondaland powerhouses Scandal and How to Get Away With Murder release a crossover event on March 1. Although this doesn't feel complete without involvement of Grey's Anatomy's Meredith Grey, a joint mission between lawyer Annalise Keating and White House chief of staff Olivia Pope is a logical story that's bound to be intense. With a first look photo of the episode now released, we now have an inkling of what the Scandal and HTGAWM crossover episode is about. Ready the wine glasses!
In Entertainment Weekly's exclusive look at the crossover, a photo shows Kerry Washington's Olivia and Viola Davis's Annalise seeming totally focused on the case at hand. Olivia appears to be in charge, leading the way into a conference room while Annalise follows, looking tough but a little vulnerable as well. In true badass fashion, the two are also dressed for success.
The magazine reports that on March 1, Annalise will first appear on Scandal and the next hour of Shondaland will then feature Olivia on HTGAWM. Plot details are being kept under wraps, but fans of the shows have guessed that the characters will meet regarding Annalise's class action lawsuit against the state of Pennsylvania. Basically, there will be no room for error in these episodes, particularly as Scandal nears closer to its series finale later this season.
TV mogul Shonda Rhimes, who created Scandal and produces HTGAWM, first teased the special crossover on Twitter earlier this month. She shared a page of the script, seemingly for the Scandal episode, on which Olivia and Annalise meet.
Anyone else see those four exclamation points at the end of Annalise's reveal? Clearly these writers are just as excited as we are for these women to meet. This sneak peek also emphasizes that Olivia and Annalise's challenging professions help the women understand each other and form a tepid bond over the quest to find truth.
Rhimes is also optimistic about how well Washington and Davis made their characters mesh, tweeting, "Y'all ready for some serious #blackgirlmagic?" when Entertainment Weekly shared the episode photo.
It looks like the crossover was the first thing both shows filmed upon returning from the holidays, as Washington and Davis each posted photos from the other show's set on Jan. 3.
Do the characters invade the other's typical setting on their own?! That's the only solution I have for Annalise sneaking around in a White House office and a steely-eyed Olivia hanging out in the courthouse. Both characters are in an emotional place right now, so maybe leaving their typical surroundings is best.
The last we saw of Annalise, she was helping Laurel keep her newborn baby by unsuccessfully attempting to dismiss Jorge's allegations that Laurel used drugs. On Scandal, Olivia and the rest of the Gladiators were still reeling from Quinn's death, but given that both shows have three more episodes before the crossover, both she and Annalise could be in totally different mindsets by then.
Davis and Washington have praised each other ahead of the crossover, with Davis telling EW about the experience:
It was black girl magic on steroids! Me and Kerry dancing to 'Rock the Boat'? Hey, it can't get any better.
Washington echoed her comments, saying:
I really love Viola. I have such immense respect and admiration for her.
While some fans are disappointed that Grey's Anatomy characters aren't appearing on the crossover, they still have the upcoming Grey's spinoff series to look forward to. The untitled spinoff about Seattle firefighters premieres on ABC on March 22. Grey's Anatomy actor Jason George will lead the new series, but according to his Twitter, he'll still make occasional appearances on the original show.
The Scandal and How to Get Away With Murder crossover event begins with an episode of Scandal at 9 p.m. ET, followed by How to Get Away With Murder at 10 p.m. ET on March 1 on ABC.