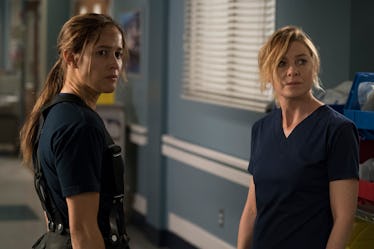 A 'Grey's Anatomy' Spinoff Is Coming Soon & It's Going To Be Hotter Than Ever
The world of Shondaland is a busy one, and it doesn't look like it's losing energy anytime soon. Although Scandal is ending later this year, Grey's Anatomy and How to Get Away with Murder remain solid powerhouses on the ABC schedule. Shonda Rhimes, the monarch of the network's epic TGIT lineup, also has a long-awaited Grey's Anatomy spinoff in store that will debut on March 22. Aside from the fact that the featured occupation of these new characters is firefighting, we know very little about the series, including its title. However, this certainly isn't stopping fans from anticipating the show and coming up with punny nicknames for the hot firefighters. Would recycling the name McSteamy be too easy?
ABC executives admitted to reporters recently that finding the perfect title for the 10-episode spinoff has been difficult. What with the show's tie to Rhimes, the network is likely expecting a hit, so the decision can't be made lightly. ABC president Channing Dungey confirmed to Entertainment Weekly that they've dismissed the easy possibility of using Seattle Fire because of the NBC series Chicago Fire, but several title options still remain:
The truth of the matter is [that] coming up with a title is one of the most challenging things we do. We've gone through a number of different options and ideas. We want to make sure what we stick on it is the perfect piece.
So, for now, the show is unofficially just the "Grey's Anatomy spinoff." As seen on Grey's first spinoff, Private Practice, an existing character will appear on the new series as a lead. Jason George's Dr. Ben Warren is making that move after his decision to join the fire department was announced in a recent Season 14 Grey's episode. Ben will soon transfer to a tight-knit fire station as a new recruit. There aren't any clues on what this means for Ben's relationship with Bailey — can I keep my fingers crossed for a Chandra Wilson guest appearance in the new show?
The other characters will hold various fire department ranks. According to showrunner Stacy McKee, female lead Jaina Lee Ortiz will first appear in an upcoming episode of Grey's Anatomy, setting the stage for the series premiere. Her character Andy is the daughter of the crew's captain, and she experiences her own romantic drama when she's torn between a colleague and a high school sweetheart. This little love triangle probably means we can count on a hot hookup in the firehouse sooner rather than later. The rest of the relatively unfamiliar cast also includes Friday Night Lights' Grey Damon and Hamilton alumnus Okieriete Onaodowan.
While that casting alone makes me want to break into the Hercules Mulligan rap, Entertainment Weekly's recent exclusive look at the new series definitely intensified my interest. As with doctors, firefighters usually form a deep bond, and George revealed in an interview with the magazine that viewers have characters coming together regularly to look forward to:
They are not blood relatives, but they are family hands down, almost beyond anything else. They eat dinner together, they live together every 24-hour shift; literally, they're a family for those periods when they're on shift, a family that also happens to completely and utterly have their lives depending on each other in a way that virtually no other job does.
Of course, that cozy family feeling will take some time to develop. What is a show about a new person entering such a different place without some initial tension? If you're worried about Ben trying to adjust without the help of the gang at Grey Sloan Memorial, there's hope for some crossover between the two shows. George revealed that he will still occasionally appear on Grey's Anatomy, while some of the original series's characters will show up in the spinoff.
Given the onslaught of medical dramas on TV, I'm so ready for Shondaland to take on a lesser seen setting in this show. The spinoff will premiere at 9 p.m. ET on ABC on March 22. I'd mark that calendar now if I were you.