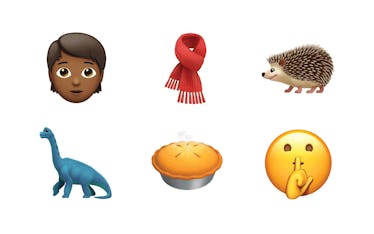 You'll Laugh Yourself To Tears When You Find Out What America's Favorite Emoji Is
Apple
America has spoken (sort of), and we've unintentionally picked our favorite emoji, according to Apple. The tech company — which just launched its new and very highly-anticipated device, the iPhone X, on Friday, Nov. 3 — recently released a report on its differential privacy that outlines how it collects user data while maintaining customer privacy. According to MacRumors, Apple said in its "Differential Privacy Overview" report that their techniques enabled them to conclude that the most popular emoji in America is the "Face With Tears of Joy" (aka the "Laughing" emoji). Go figure!
Per the report on the differential privacy technology included in devices running on macOS Sierra and iOS 10 and beyond, Apple analyzes lots of user data in order to arrive at the reported conclusions regarding how its customers use its products. The report reads,
The differential privacy technology used by Apple is rooted in the idea that statistical noise that is slightly biased can mask a user's individual data before it is shared with Apple. If many people are submitting the same data, the noise that has been added can average out over large numbers of data points, and Apple can see meaningful information emerge.
So, basically, this technology lets Apple see user patterns. When looking over the data, the company was able to note that many people in the U.S. frequently use the "Face With Tears of Joy." Hence why it's at the top of the most popular list. Similarly, the Apple has a proprietary "local" differential privacy technique, which is described like this in their enlightening report:
Local differential privacy guarantees that it is difficult to determine whether a certain user contributed to the computation of an aggregate by adding slightly biased noise to the data that is shared with Apple. But before adding this noise, it's necessary to define a data structure that captures a sketch of user input with a small number of bits.
Both of these techniques together gave us the answer to a question we've maybe secretly wanted to know all along. What is the most frequently used emoji? "Face With Tears of Joy" is the clear winner in Apple's eyes — I mean, I do use it a lot — and the top 10 graph embedded into the company's report proves it. The nine runner-ups include the "Red Heart, the "Loudly Crying Face," and the "Smiling Face With Heart-Eyes," for reference. Interesting, right? (They're all in the "Frequently Used" section of my emoji keyboard, TBH.)
Despite these interesting findings, it's possible Apple's Top 10 Emojis list will change now that the tech company finally released a roster of new emojis in its latest mobile operating system update, iOS 11.1. The exciting update brings mythical creatures, fun foods, and all kinds of newness to Apple users, who have been patiently awaiting this moment since summer '17 when they were announced by Unicode and Emojipedia.
If you haven't already seen the emojis in iOS 11.1, I definitely recommend checking them out. Though "Face With Tears of Joy" will always be a go-to for me, I have to say that the new food emojis are sort of everything. Those interested in updating their devices (for the sole purpose of gaining access to those emojis, duh) can easily do so in their iPhone's settings. Once there, tap "General," then "Software Update," and "Download and Install." The only bummer is that iOS 11.1 is 1.25GB, meaning if your storage is limited, you're going to have to free up some space beforehand.
Check out the entire Gen Why series and other videos on Facebook and the Bustle app across Apple TV, Roku, and Amazon Fire TV.