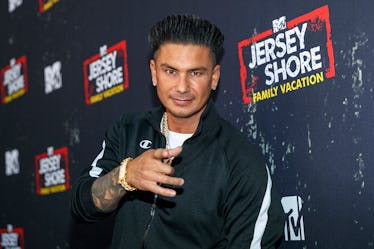 Pauly D's Net Worth Will Make You Want To Quit Your Day Job & Start DJing
Rich Polk/Getty Images Entertainment/Getty Images
Now that Jersey Shore is back, fans are desperate to know what the guido gang has been up to in the six years since the show went off the air. For the most part, the OG cast has settled down into relatively normal relationships — with the exception of DJ Pauly D, who is still living it up as a globe-trotting, single DJ. As it turns out, it pays to live a life like Pauly's: the Jersey Shore star is making serious bank as a DJ, even all these years later. So, what's Pauly D's net worth? The answer will make you want to fist pump your way into the club stat.
According to Celebrity Net Worth, DJ Pauly D's net worth is currently sitting at a cool $20 million. The bulk of this amount comes from his time on Jersey Shore: during the show's sixth season, Pauly D made a reported $150,000 per episode, plus $400,000 in signing bonuses, $200,000 in end of season bonuses, and $150,000 for a reunion episode. When added together, that comes out to about $2.55 million just for Season 6, so imagine how much Pauly D made over the course of Jersey Shore's entire six-season run. And while there's no official word on what the stars were paid for Jersey Shore Family Vacation, I have to imagine that getting the gang back together cost MTV a pretty penny. As Pauly would say, yeaaaaah buddy.
The other large chunk of Pauly D's net worth comes from his work as a DJ, which apparently he's actually kind of good at? I'm not sure why I'm surprised by this, but I am. Pauly D was DJing before he went on Jersey Shore, but as soon as the music industry got a look at his fantastic hair, his career really took off. In 2011, he toured with Britney Spears on her Femme Fatale tour and signed with 50 Cent's G-Note record label. The next year, he became the resident DJ at the Hard Rock Hotel and Casino is Las Vegas, Nevada, a huge gig that likely came with an even greater pay raise. And when he's not DJing in Vegas, his current hometown, he's going on his own tour, which brings his fist-pumping beats to venues all across the world.
Amid all this success, Pauly D still manages to stay humble. "It still doesn't feel real to me," he told People in April. "I wake up in the morning and still pinch myself to make sure I'm not actually dreaming." But just because he's staying true to his roots doesn't mean he's saving all that hard-earned cash. In the first episode of Jersey Shore Family Vacation, fans got a sneak peek at his house, and it is something. He's got motorcycles in his living room, a huge tanning bed, and a gym to keep up his GTL routine:
I wanted my house to be a home for me and have everything that I needed in it. So it has a basketball court, a gym, tanning beds, laundry, an arcade, [a garage for] my cars and bikes and mini golf. You know, the essentials.
The essentials, right. And of course, like any self-respecting guido, Pauly D loves to splurge on clothes and jewelry. People reports that he most recently bought a fully diamond-encrusted Audemars Piguet Royal Oak Offshore watch. Those watches start at around $40,000, so I can't even imagine how much a fully diamond-encrusted one cost. "I love online shopping," he said. "My style is guido street — and yes, I invented that." I totally don't doubt that you did, Pauly.
Are you ready to become a DJ yet?