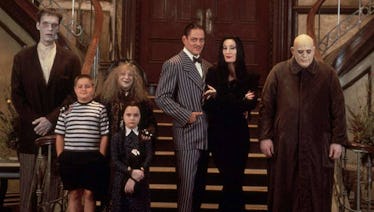 Here Are All The Shows & Movies To Watch Before They Leave Netflix In November
Paramount Pictures
Ever since Netflix got into creating original content, its arrivals every month have outweighed its exits. But even though Netflix's newest movies and TV series dominate the headlines, fans still need to know what's on its way out the door. So what's leaving Netflix next month? Here's a rundown of everything you need to watch in November.
Most of the significant departures for November don't come until the end of the month. But there are a few mid-month exits fans should take note of. The most significant is the 1991 adaptation of The Addams Family, which has done its job for the Halloween season and will take leave of Netflix on Nov. 15.
As for the end of the month, it's notable that Diana: In Her Own Words will be leaving. (Perhaps Netflix figures peak viewership will slip after The Crown Season 4 debuts on the 15th? Also, the first three Ocean's movies (Eleven, Twelve, and Thirteen) are heading out. And in a blow to musical fans, West Side Story is exiting too, though that's almost certain to be heading over to HBO Max in time for the new adaptation's debut in theaters.
Here's the full list of what's coming to Netflix in November:
And here's what's leaving it:
Nov. 1
Don't Be Afraid of the Dark
Hoodwinked Too! Hood vs. Evil
Olympus Has Fallen
Shark Night
Nov. 4
Nov. 6
Nov. 7
Hit & Run
Hope Springs Eternal
The Sea of Trees
Sleepless
Nov. 8
Nov. 11
Nov. 14
Oliver Stone's Untold History of the United States: Season 1
Nov. 15
9
Abominable Christmas
The Addams Family
Drive
Nov. 16
Nov. 17
Nov. 22
Nov. 23
Nov. 26
Nov. 27
Jeopardy!: Champion Run I: Gilbert Collins
Jeopardy!: Champion Run II: Rachel Lindgren
Jeopardy!: Champion Run III: Ryan Fenster
Jeopardy!: Champion Run IV: Josh Hill
Jeopardy!: College Championship III
Jeopardy!: Producer's Pick
The Nutcracker and the Four Realms
Nov. 30
The Adventures of Sharkboy and Lavagirl
The Bachelor: Season 13
Bad News Bears
Diana: In Her Own Words
Gridiron Gang
Hostage
National Security
Lakeview Terrace
Moneyball
Ocean's Eleven
Ocean's Twelve
Ocean's Thirteen
Priest
Stand and Deliver
The Tribes of Palos Verdes
West Side Story
Y Tu Mamá También
You Don't Mess with the Zohan