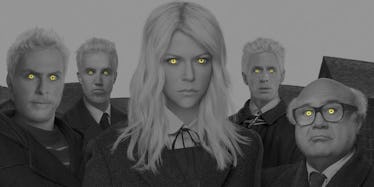 Here's Everything That's Leaving Netflix In December, So Start Binging ASAP
FX
Netflix is the streaming service we love the most, with a share of nearly 60 percent of American households. But it's also the one we sometimes hate, especially when it decides not to renew the show we're in the middle of long-term binge watching. But never fear! There's still two more weeks left in November, and a long holiday to use to get through all the shows that are going away next month. With that in mind, let's go over what's leaving Netflix in December and when your favorites are heading out.
As always, most of the stuff leaving Netflix moves off the streaming series on the first of the month, due to the way rights contracts are structured. (Netflix usually signs to have the rights through the last day of the previous month.) But not all contracts are so clean. This month is a reminder of that, as the biggest show taking it's leave of the streaming service on Dec. 9 are all 11 seasons of It's Always Sunny in Philadelphia. No word where the FX show will be heading next, or how long it will be gone from Netflix's service, but we can always hope it returns soon.
But that's not the only major departure from Netflix; it's just the one with the most seasons attached.
Also heading out: Young Frankenstein, one of Mel Brooks' finest comedies. If you've never seen this spoof on 20th century horror movies with Gene Wilder as Doctor Frankenstein (pronounced Franc-in-steen, naturally) make sure to grab your last chance to see it over Thanksgiving weekend. It may not be traditional holiday fare, but it's something the whole family will get a belly laugh from.
Some leavings from Netflix always feel oddly mistimed, but perhaps none so much as All I Want For Christmas heading out on Dec. 1. Also leaving just before the season that would call for it is The Gospel Road: A Story of Jesus, along with The Man from Snowy River. We're sorry to see these wintertime classics leave before the first snow has fallen in many parts of the United States. Let's hope they'll be back for a return engagement next year, ahead of Christmas 2018.
Mid-month will see the movie Holes head out on Dec. 5, followed by Dollhouse Season 2 on Dec. 11. There's quite a bit of America's Funniest Home Video Kids leaving on Dec. 15. Johnny Depp's Pirates of the Caribbean: The Curse of the Black Pearl will also be removed just in time for Christmas day.
Check out the full list:
Leaving Dec. 1, 2017
All I Want for Christmas
Bedazzled
Black Snake Moan
Compulsion
Cousin Bette
Hoffa
La Viuda Negra Season 1
Picture Perfect
Practical Magic
Rebelde
Scary Movie 2
Scary Movie 3
Super Size Me
Terriers Season 1
The Crucible
The Gospel Road: A Story of Jesus
The Man from Snowy River
Touch: Season 2
Toys
Two Girls and a Guy
Waking Life
Young Frankenstein
Yu-Gi-Oh! Bonds Beyond Time
Yu-Gi-Oh! Zexal Seasons 1-2
Leaving Dec. 5, 2017
Leaving Dec. 9, 2017
It's Always Sunny in Philadelphia Seasons 1-11
Leaving Dec. 10, 2017
Lucky Number Slevin
Nightcrawler
The Rite
Leaving Dec. 11, 2017
Leaving Dec. 13, 2017
Leaving Dec. 15, 2017
America's Funniest Home Video Kids: Holidazed
America's Funniest Home Videos Kids: Animals with Attitude Season 1
America's Funniest Home Videos Kids: It's Tough Being a Kid Season 1
America's Funniest Home Videos Kids: Playtime Ain't for Wimps Season 1
America's Funniest Home Videos: New Collection D: Nincompoop Nation
Jeff Dunham: Arguing with Myself
Leaving Dec. 19, 2017
Leaving Dec. 20, 2017
Leaving Dec. 14, 2017
Leaving Dec. 25, 2017
Pirates of the Caribbean: The Curse of the Black Pearl