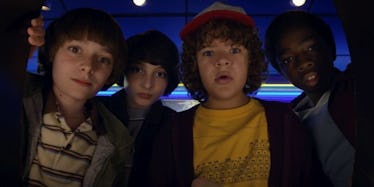 Here's Everything Coming To Netflix In October & You're Going To Want To Binge ASAP
Netflix
Netflix is the streaming service we love the most. But it's also the one we sometimes hate, especially when they decide not to renew the show we're in the middle of long-term binge watching. But never fear! Because whenever news breaks that something is leaving the streaming service, that can only mean one thing: new shows and movies are coming to take their place. So while Friday Night Lights and 30 Rock may be on their way out at the end of September, there's brand new stuff coming to Netflix in October.
Of course, the big news for Netflix every month are the original shows and movies that will debut. Of those original works coming in October, the most highly anticipated is at the end of the month, with Stranger Things Season 2. It arrives just in time for Halloween, on Friday, October 27, 2017.
Here's the synopsis:
It's 1984 and the citizens of Hawkins, Indiana, are still reeling from the horrors of the demagorgon and the secrets of Hawkins Lab. Will Byers has been rescued from the Upside Down but a bigger, sinister entity still threatens those who survived.
And because you know you love the use of Michael Jackson's Thriller as the new theme song, here's the trailer again for anyone who hasn't already watched it to death. (Spoiler alert, I might have.)
But while Stranger Things may be the show arriving with the biggest fanfare, that's only the beginning of October's offerings.
Netflix Original Series
Netflix will be bringing us the first seasons of three original series this month. The first is called Mindhunter, and it arrives October 13, 2017. It's a sort of cross between The X-Files and a Philip K. Dick novel, as the FBI attempts to read minds and stop psychopaths before they commit murder. It has a stellar cast, including Anna Torv from Fringe and Jonathan Groff of Hamilton.
The second series is called Suburra, and it debuts on October 16, 2017. An Italian production, it focuses on modern-day Rome, with a politics-meets-organized crime drama. It sounds like it might be a 2017 version of Game of Thrones. Also coming this month: Season 1 of Bonus Family (10/5), an anime called ID-0 (10/6) and Zumbo's Jest Desserts (10/31).
Also in TV series, Netflix will bring us Wanted, of which it's releasing both Seasons 1 and 2 on October 24, Haters Back Off Season 2 arrives on 10/20, Slasher: Guilty Party comes October 17, and ongoing revival of Voltron from Dreamworks will return this month with Season 4. Let's go, Voltron Force!
Netflix Original Movies
Netflix has several original movies coming out this month, but not all of them are focused on Halloween. First up, on October 13, 2017, The Meyerowitz Stories is the fourth in an ongoing long-term collaboration with Adam Sandler. It co-stars Ben Stiller, Emma Thompson, and Dustin Hoffman, and of the work Sandler's done with Netflix, this one has the best reviews so far.
The Babysitter, which also arrives on October 13, is definitely a Halloween movie: "When Cole stays up past his bedtime, he discovers that his hot babysitter is part of a satanic cult -- and they'll stop at nothing to keep him quiet." Also that weekend, the Spanish movie Fe De Etarras arrives.
October 20 sees Netflix's adaptation of Stephen King's 1922. For those who haven't read the book, a quick synopsis: "With the murderer playing the role of the narrator, he'll tell his confession of his wife's murder and how she came back to haunt him."
Also out on October 20, Wheelman is the story of a getaway driver, played by Captain America's Frank Grillo. This is one of those heist-goes-wrong type movies that you would expect Jason Statham to star in. (Or Charles Bronson, back in the day.)
Netflix Original Docuseries and Specials
The Death and Life of Marsha P. Johnson, a documentary on one of the earliest trans-rights activists, has gotten a lot of press ahead of time, doing the film festival circuit ahead of Netflix's own release. Of this category, it's definitely the most anticipated this month, arriving on October 6, 2017. Synopsis: "The police ruled Marsha P. Johnson's death a suicide. This documentary challenges their claim while honoring the LGBT activist's life and legacy."
Netflix has been committing to comedy stand-up specials, and this one has several. The biggest is Patton Oswalt: Annihilation. Oswalt is becoming a bit of a Netflix company member; this is his third turn this year in a Netflix original after Lady Dynamite and Mystery Science Theater 3000. Arriving October 17, 2017, this special was filmed at the Chicago Athenaeum Theatre.
Other stand-up specials: Judah Friedlander: America Is The Greatest Country In The World (10/30)** (**moved to 10/31), Rodney Carrington: Here Comes The Truth (10/3) Christina P: Mother Inferior (10/10) and El Especial De Alex Fernandez (10/13).
Netflix other original docuseries this month, coming October 20, 2017, is The Day I Met El Chapo: The Kate del Castillo Story. Here's the synopsis:
The Day I Met El Chapo is the biographical account of Mexican actress, Kate del Castillo. The three-part series tells Kate's side of the story using never-before-seen footage and exclusive details of what led to the infamous meeting between one of the world's most notorious drug lords, a Hollywood star and one of Mexico's most famous television actresses.
As some may remember, El Chapo, before he was arrested, had a thing for meeting with actors, including Sean Penn. Del Castillo's story also ran in the New Yorker at the time.
Everything Else That's Coming To Netflix In October
But Netflix isn't just original fare. As always, there's a slew of new movies and TV shows from their catalog that will start streaming this month. Check out the list!
Available 10/1/17 88 Minutes A Cinderella Story: Once Upon a Song Before Midnight Blood Diamond Boogie Nights Charlie and the Chocolate Factory Cleverman: Season 2 Death Sentence Don't Be a Menace to South Central While Drinking Your Juice in the Hood Eagle vs. Shark Eyes Wide Shut Generation Iron 2 Ghost Patrol I Love You, Man Ice Guardians Lockup: Disturbing the Peace: Collection 1 Made of Honor Miss Congeniality Miss Congeniality 2: Armed and Fabulous Must Love Dogs Never Let Me Go No Reservations Penelope PJ Masks: Season 1 Set Up The Reaping Tokyo Idols Tommy Boy Vanished Veronica
Available 10/2/17 Mr. Dynamite: The Rise of James Brown Sleeping with Other People
Available 10/3/17 13 Demons Cult of Chucky The Survivalist
Available 10/4/17 Raw
Available 10/5/17 Schitt's Creek: Season 3 The Fosters: Season 5
Available 10/7/17 Chris Brown: Welcome To My Life Middle Man
Available 10/10/17 The Skyjacker's Tale
Available 10/11/17 Donnie Darko
Available 10/13/17 Talladega Nights: The Ballad of Ricky Bobby
Available 10/15/17 Belief: The Possession of Janet Moses LEGO: City: Season 1 Money OtherLife She Makes Comics West Coast Customs: Season 6
Available 10/19/17 Wedding Unplanned
Available 10/20/17 Smurfs: The Lost Village
Available 10/23/17 Meet the Robinsons While We're Young
Available 10/24/17 The Mist: Season 1
Available 10/25/17 The Hateful Eight The Final Master La Querida del Centauro: Season 2
Available 10/26/17 Strange Weather
Available 10/28/17 Pup Star: Better 2Gether
ETA: Halloween Extras
Since this post went live, Netflix has added some brand new titles for this month, all Halloween related. Check them out!
Available 10/3/17 American Horror Story: Roanoke
Available 10/6/17 Saw 1-7
Available 10/10/17 Teeth
Available 10/11/17 Battle Royal
Available 10/12/17 Battle Royale II - Requiem
Available 10/13/17 Cabin Fever
Available 10/14/17 Horsemen
Available 10/15/17 Hostel
Available 10/16/17 Hostel 2
Available 10/17/17 Little Monsters
Available 10/18/17 The Voices
Available 10/24/17 Jack Whitehall: At Large