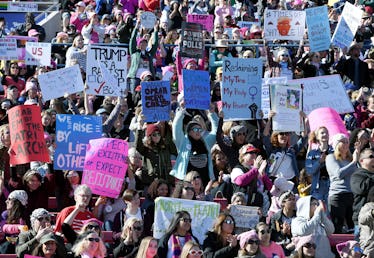 The Latest Budget Deal Actually Includes Something Good For Women, & I'm Stoked
Ethan Miller/Getty Images News/Getty Images
Here's something to brighten your day: some good might actually be coming out of Donald Trump's presidency. The Office on Violence Against Women (OVW) is getting its highest level of funding ever, thanks to being included in the federal budget deal currently working its way through Congress. So if you've been wondering what's in the omnibus spending bill, you know there's at least one good thing.
According to a press release, U.S. Sen. Jeanne Shaheen secured record breaking federal funds of $492 million for the OVW at the Department of Justice as part of the omnibus spending bill that passed the House on March 22. The office provides grants for programs relating to "state domestic violence and sexual assault coalitions, rape prevention programs, domestic violence hotlines, support training for police officers and prosecutors, and women's shelters and transitional housing support services."
In addition, the bill will reportedly provide nearly $5 million to the Crime Victims Fund, which provides services and help to victims of crime in communities, and nearly $50 million "for a grant to support comprehensive reforms regarding sexual assault and reducing the backlog of rape kits."
In the statement, Shaheen said,
Funding the Office on Violence Against Women and supporting the programs it manages are critically important to the health and safety of women and families across the nation, and will always be a top priority for me. Every year, millions of women throughout the United States are survivors of domestic violence and sexual assault, yet this administration has failed to nominate someone to lead the agency tasked with interrupting, responding to and combating these crimes – that is unconscionable. These are lifesaving programs, and I'll keep fighting to get them the resources they need to serve women in our communities across the country.
The Office on Violence Against Women was created after the Violence Against Women Act was signed into law in 1994. The office works to reduce domestic violence, sexual assault, and stalking by supporting organizations and initiatives that provide services to survivors, including things like direct services, crisis intervention, and transitional housing, according to its website. Considering the prominence of the Times Up and Me Too movements in recent months, this office is clearly more relevant than ever.
The funds are part of the $1.3 trillion federal budget package that will also provide spending allowances for mental health, the opioid epidemic, and school safety. Now passed by the House, the bill is making its way to Senate, where it will have to pass before midnight on Friday to avoid a government shutdown.
What else can we expect from this federal budget package? According to CNN, incentives for states and federal agencies to enter data to the country's National Instant Criminal Background Check System (NICS) for gun purchases will be stricter. This news is coming just in time for the upcoming March For Our Lives rallies taking place on March 24. The bill also includes a hefty $1.6 billion for President Trump's much-desired border wall (down from a request of $25 billion, per Vox), and increased funds for border control. It also avoids dealing with the status of DACA recipients, the young undocumented immigrants brought to the United States as children known as Dreamers.
According to a press release sent to Elite Daily, the package will also include the Keep Young Athletes Safe Act, which "provides resources to develop educational materials, and investigate and adjudicate instances of sexual, emotional, and physical abuse in youth sports." This act was created by Reps. Poe and Kuster.
Clearly big changes are on the way with this bill.
Just when it seemed that bad news was becoming an every day thing, it's nice to see there's something good for women in the works. Here's to more changes like this being made!