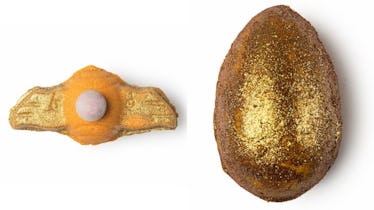 Lush Made A Fidget Spinner Bubblebar For Easter & That's Not Even The Best Drop
Lush
Can you believe March is here? I'm so excited for spring and summer to arrive, but I'm totally not prepared for Easter. While the flowers are still waiting to bloom (at least in my neck of the woods), Lush is ahead of the pack with their latest spring launch. What's in Lush's Easter collection? This collection is so massive, I'm not sure if any bunny would be able to fit it all into your basket.
Lush is one of my favorite brands because not only do they have vegan and cruelty-free products, but they're so innovative when it comes to their releases. In my lifetime, I'm not sure if I'll be able to try all of their products, but I'm sure AF going to attempt to conquer all of the bath bombs, bubbleroons, and luxurious soaps.
For many, the spring/summer season is the best time of year (besides the holiday season, of course) and what better way to kick off the season than with a huge Lush order? I'm warning you now, there's no way you'll be able to control yourself when it comes to this launch. It's filled with cream eggs, carrots, golden eggs and more. If Willy Wonka was in the beauty business, I'm pretty sure he would be floored by the competition. Lush, what did I do to deserve this?! Head over to Lush USA for a look at all of the products available now, but below are some of my favorites.
The "Eat All Of Your Carrots" Soap
I always thought my mother's rationale that carrots would make my vision better was insane, but there are so many properties of carrots that are nourishing for the body. Formulated with a cleansing carrot infusion, fair trade cocoa butter, and a blend of cedarwood and tangerine oils, this soap is going to rejuvenate your skin from head to toe.
The Blue Cream Egg Bubbleroon
This is heaven in a bubbleroon! Laced with mint-chocolate, fair trade cocoa, and shea butters, this is what bath dreams are made of. Obviously, you'll have the cutest Instagram photo, but your skin is also going to be super smooth just in time for the bare legs season. Omg. Bare legs season. Help us all.
The Pink Cream Egg Bubbleroon
Just like its blue twin, this bubbleroon is also formulated with mint-chocolate fair trade cocoa and shea butters. Besides the Starburst-esque colors, there's also a surprise hint of spearmint oil. Spearmint oil does wonders for toning the skin. Can you say Mint-summers Night Dream?
The Yellow Cream Egg Bubbleroon
The last eggcellent bubbleroon is the prettiest of the bunch, and that's saying a lot because every egg creme is gorgeous. Packed with mint-chocolate, spearmint oil, fair trade cocoa and shea butters, this is the older sibling of the bunch.
The Seven Deadly Spins Reusable Bubble Bar
Lush, back at it again with the innovative products! Formulated with citrusy-sweet perfume, this bubble bar actually spins like crazy. All you need to do is grab the wooden center, and drift off into a bubble induced coma. It's a fidget spinner for your tub, in case your other fidget spinners weren't water-proof, and bathing alone isn't relaxing enough for you.
The April Showers Bath Bomb
I'm sensing a fair trade and cocoa butter theme in this collection. Boasting foresty cedarwood and cypress oils, this bath bomb is going to cure the April showers blues. Before you know it, May will be here, and shorts, dresses, and skirts will be all you need in your wardrobe.
The Golden Egg Bath Bomb Melt
This bath bomb is so pretty, I feel like it needs to be front and center at a museum. Formulated with olive oil, bergamot and sweet, wild orange oils the only thing you'll be wondering is: How do I like my bath bombs (eggs)?
The Wash Behind Your Ears Shampoo Bar
Growing up, I loved the squeaky clean feel of my shampoos, but then I learned that's not the point of washing your hair. Getting some of the oils out is key, but leaving a bit behind keeps your strands and scalp happy. Formulated with carrot, lemon and rosewood oils, and mineral-rich alfalfa infusion, this shampoo bar is working double time. If your scalp was dry this winter season, this bar is a must-have.