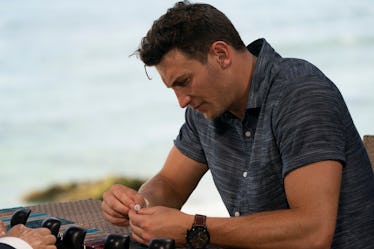 Blake Horstmann Gave Fans An Honest Update On How He's Doing After 'The Bachelorette'
ABC/Paul Hebert
Blake Horstmann captured the hearts of America while competing on Becca's season of The Bachelorette. The sweet Colorado sales rep made it all the way to the show's dramatic finale until Becca decided to choose Garrett Yrigoyen as her future husband. Blake's exit was a tearful one. His departure was part of one of the most emotional reality TV breakups Bachelor Nation has witnessed. So, what's Blake Horstmann doing after The Bachelorette? He's "ready to move on."
At September's iHeartRadio Festival, Blake revealed to ET that he and Becca have not spoken since their conversation on "After the Final Rose." He also noted that watching his former flame alongside Garrett actually helped him get over his heartache.
"When I saw them together on that couch, how happy and everything they were, I was like, 'OK. Ready to move on,'" he explained. Now that's the spirit!
Well, it sounds like Blake's got a good attitude about everything that went down and he's putting his runner-up status in positive perspective. But if he's ready to move on, does that mean the fan fave is seeing someone new? Blake admitted he's "dating," although he's not going out with anyone exclusively at the moment.
Bachelor Nation had Blake pegged as one of the frontrunners for Season 23's Bachelor position. Colton Underwood, who came in fourth during Season 13 of The Bachelorette, ended up snagging the gig.
"I really do believe in this process. I'll defend it to my last breath," Blake said, when asked if not landing the Bachelor job was a disappointment. "I do think you can find your person through that. But, I don't know, there's some good things to come. Still some fun opportunities."
Blake also expressed that he feels Colton is ready to settle down, despite other people's remarks. He's even excited to tune in to his season.
Again, this guy seems to have an optimistic take on pretty much any circumstance.
A quick scroll of Blake's social media shows he's been enjoying the post-Bachelorette life and the friends he's made in the process.
"I wouldn't change the man I am if I was the bachelor and wasn't going to change the man I am to become the bachelor. I am excited to close this chapter and see what the future holds!" he captioned a photo of himself and fellow former Bachelorette competitors Jason and Colton on the day that Colton's Bachelor role was confirmed.
Now that Blake knows he won't be handing out roses next year, fans are obviously wondering if he would consider popping up on any other shows in the Bachelor universe, like Winter Games or Bachelor in Paradise.
"If I'm still single come that time and if I'm in a good place in my life I'd definitely consider Paradise. I think Paradise is incredibly successful. There's a lot of couples that come out of that," Blake divulged.
Hmm. Summer 2019 might just be Blake's season. Here's hoping he finds the true love he's been looking for.