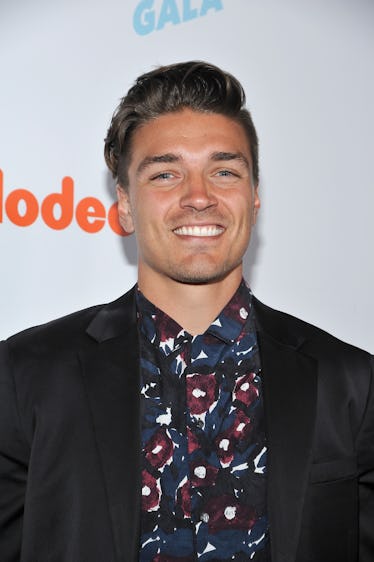 Dean Unglert Has A Lot To Say About Colton, Claims He's 'Not My Bachelor'
John Sciulli/Getty Images Entertainment/Getty Images
It sounds like one reality TV alum isn't the biggest fan of ABC's latest Bachelor pick. Dean Unglert, who vied for Rachel Lindsay's heart on The Bachelorette and appeared on Season 4 of Bachelor in Paradise, didn't mince words weighing in on Colton's upcoming stint. Dean Unglert says Colton Underwood is "not my Bachelor" alongside criticisms of the leading man choice for the longrunning dating competition series.
"You know, he's a little young. He's younger than me. He might be more advanced in his life than I am. But I don't necessarily see him marrying the woman he chooses for a plethora of reasons," Dean explained of his rationale to ET at the iHeartRadio Music Festival over the weekend.
So, what are those reasons? Dean clarified that Colton doesn't know what he wants. He also feels that Colton might not remain true to himself due to public pressure. Dean went on:
You saw it on Paradise, right? You saw him say something along the lines of 'I am the person that I think everyone wants me to be.' And the public pressure to be someone is very real on The Bachelor — very real on The Bachelorette, very real on Bachelor in Paradise, but even more so, 10 times, 100 times, on The Bachelor. And I think he'll do what he thinks people want him to do and not what's necessarily right for him.
Tell us how you really feel, buddy.
Dean's got love for Colton (he thinks he's a very nice person who's "well-intentioned") — the guy's just not his Bachelor. Bachelorette Season 14 runner-up Blake and fan fave charmer Jason were his picks for the role. He calls the Becca cast-offs "incredible humans" who are "deserving of love."
Dean might not be down with Colton's Bachelor position, but will he tune in to watch the former football player's journey unfold? Yup, although he still describes Season 23 as a "dumpster fire."
Dean memorably competed on Rachel Lindsay's season of The Bachelorette before being sent home in week four. He made his way to Bachelor in Paradise and ended up earning a reputation as a bit of an immature flip-flopper when he got embroiled in a messy love triangle with Kristina Schulman and Danielle Lombard. Dean resurfaced on February spinoff Bachelor Winter Games and struck up a romance with Lesley Murphy. The couple split in April. He took to Instagram following the announcement to open up about love means to him and how he still has to work on himself. A portion of his caption read:
As I've gotten older, I've learned that although everyone DESERVES love, it's not something we're entitled to. Love takes work. Love is compromise. Love is earned. I still have a lot of work to do on myself, a lot to prove to myself, before I'm ready for something like that.
Once he gets that work in, would Dean want to return to reality TV? To be fair, he also thinks of himself as a potentially horrible Bachelor, so it's not like he'll be campaigning for the gig any time soon.