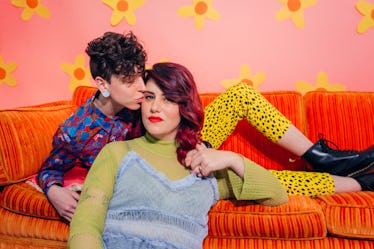 What Your Partner Really Wants For Valentine's Day, According To Their Sign
Valentine's Day is a day for celebrating love, friendship, and for chowing down on your favorite chocolates, obvi. Although, picking the perfect present for your adorable SO can be tricky sometimes, which is why I'm going to reveal what your partner really wants for Valentine's Day, according to their zodiac sign.
Your partner's birth chart can really help figure out what they would actually appreciate on the most romantic day of the year, particularly the area of their chart that is ruled by Venus — I'll help you figure that out in a minute — along with their seventh house of relationships, which determines both the type of partners they're most attracted to and the people they tend to lure into their lives.
Venus is love, beauty, relationships, and pleasure, so let's focus on that. If you want to be more specific, you should take your SO's rising sign into consideration. For example, let's say they're a rising Taurus. This would mean their second house is ruled by Gemini (it goes in order), so they're most likely attracted to technological gadgets, smartphone accessories, and other educational things.
Allow me to get more specific. Here's what your partner really wants from you this Valentine's Day, according to their zodiac sign:
Aries: Beautiful Jewelry They Can Flaunt
Aries means business this Valentine's Day. Aside from the fact that Taurus rules their second house of diamonds and pleasure, Venus is also bringing sexy back while dazzling through their sign, so they'll want to look the part, too.
Taurus: A Mentally Stimulating Adventure
Taureans have their very own philosophy on romance this days, but they're ready for their next adventure. Truth is, they could use a little company, especially with Venus igniting their isolated 12 house of secrets.
Gemini: A New Tech Gadget
This might sound like the opposite of Gemini, but they're naturally attracted to nostalgic items and memorabilia. However, with Venus dancing through their socially conscious 11th house of teams and technology, chances are they'll be craving something eccentric and techie.
Cancer: Anything That Consists Of Rose Petals And Worship
Here's the deal with Cancer: Leo rules their second house, so the gaudier the better. Plus, with charming Venus dazzling their sophisticated 10th house of ambition and fame, they'll be ready to hog the spotlight. The more desirable you make them feel, the better.
Leo: A Romantic Vacay With An Itinerary
It's all about the little things for Leo during Valentine's Day. Although, with Venus igniting their expansive ninth house of travel, education, and higher learning, they could use a nice romantic getaway. Otherwise, a stellar book on astrology will do.
Virgo: Something That Makes Them Feel Sexy
Luscious Libra rules Virgo's second house, which means they adore all things beauty. Also, Venus is sizzling through their sultry eighth house of sex, intimacy, and all things taboo, so something exotic and perhaps naughty should do the trick.
Libra: A Long-Lasting Commitment
Libra wants all of your attention, especially during Valentine's Day. Although they're likely looking for something more official this year, considering their darling ruling planet Venus will be dancing through their committed seventh house of one-on-one partnerships.
Scorpio: Something That Helps Them Get Organized
Scorpio is pretty difficult to satisfy by nature, but with Venus igniting their orderly sixth house of health and due diligence, they're either looking to get back into their fitness game, or perhaps reorganizing their workspace.
Sagittarius: A Thrilling Experience They'll Never Forget
Despite Sagittarius' love for adventure, this fire sign is typically frugal when it comes to their spending habits. I mean, they have to find a way to travel somehow, right? Also, with Venus dancing through their childlike fifth house of fun, they'll likely be in the mood for something playful and exciting.
Capricorn: A Stellar Blast From The Past
Everyone knows Capricorn is typically pragmatic and serious, but with Venus sprinkling her charms over their domestic fourth house of home and family, they'll likely swoon over something cozy or perhaps a nostalgic item from their past. Although, if you don't have access to their memorabilia, Aquarius rules their second house, which means they love technology and anything futuristic.
Aquarius: Anything Social Media Friendly
Pisces rules Aquarius' second house of values and luxury, so they're always in the mood for something magical and out of this world. However, with Venus igniting their third house of communication and all things techie, it wouldn't hurt to surprise them with something Instagram-friendly, or perhaps a tripod for their iPhone.
Pisces: Front-Row Concert Tickets
Aries rules Pisces' second house of pleasure and values, so it's no wonder they love getting first dibs on anything and everything. Also, Venus just so happens to be transiting through this area of their chart — which also happens to be her house of rulership — so anything artistic and worthy of indulging in will do.
This article was originally published on