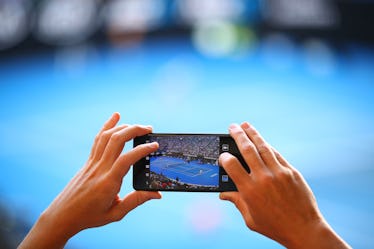 The Newest iPhone's Name Might Be A Total Shift From Tradition – UPDATE
Cameron Spencer/Getty Images Sport/Getty Images
Christmas has come early folks. On Wednesday, Sept. 12, Apple CEO Tim Cook will take center stage on the Steve Jobs Theater in Cupertino, CA to introduce all the new goodies the smart device company plans to unveil. While every product is sure to be a showstopper, I'm personally most excited to see the new smart phone hitting stores (and my wallet). So, what will the new iPhone be called? It represents the next chapter of the iconic company, and the rumors about what it might be named are getting confusing.
Update: Apple announced on Sept. 12 that the new iPhones are the iPhone XS, iPhone XS Max, and iPhone XR.
Earlier: We might have to wait until Wednesday to hear all the details behind this new and improved smart phone, but in the meantime we can enjoy the leaked information and photos surfacing online. On Sunday, Sept. 9, photos of supposed iPhone 9 "dummy models" were leaked, but it turns out the "iPhone 9" might actually be called the iPhone Xc. Clearly this is a huge shift in Apple's previous smart devices, which have a history of going in numerical order. Elite Daily reached out to Apple to confirm the details in the photos of the reported iPhone Xc at the time, but did not hear back.
But wait, because there actually might be even more coming our way. According to reports, Apple might have another iPhone up their sleeve, and it'll be larger than life. Instead of doing a sized-up version of the iPhone X and adding the moniker "Plus" as they've done previously, Apple is rumored to be changing the larger phone's name to iPhone XS Max, according to The Independent. Elite Daily reached out to Apple for confirmation on the naming rumors, but did not hear back. Some may say great things come in small packages, but others might argue that size matters. It's really up to you.
To be honest, I'm in full support of Apple possibly switching things up and going in a little bit of a different direction. After all, nothing piques a customer's interest more than a fresh take on a historic product.
So now that we know the name, let's get into some of the details about this new and improved device. According to 9to5 Mac, the iPhone Xc will come in a few fabulous colors, including white, space gray, rose gold, and red. Hello yes, I'll take them all.
The price of the new phone is definitely worth a pretty penny, but it's actually rumored to be a lot more affordable than its predecessor the iPhone X. According to 9to5 Mac, the iPhone Xc will run a smooth $699, which may not be cheap but compared to the iPhone X's $999 price tag it's definitely a steal.
Apple's "Gather Round" event is definitely an anticipated affair, but this smart device company has a lot to live up to following Samsung's 2018 Unpacked event that happened in August. Not only did the tech company unveil its new Samsung Galaxy Note 9, but it also introduced the trendiest, and most convenient, phone accessory on the market. Samsung's new Galaxy Note 9 S Pen is a stylus that has a ton of different functions, especially since it's connected to Bluetooth. According to Samsung, the S Pen works as a remote where users can take photos and operate music with just a click of a button. So basically, the difficulty in snapping the perfect selfie is easily solved with the creation of this impressive stylus. Oh technology, you never cease to amaze me.
Some of these techie terms may fly over my head, but I recognize a cool new phone when I see one. Now that we have some clues about what the iPhone's new name will be, the only question is: what color will I choose and how soon can I purchase? I'll see all of you in line.