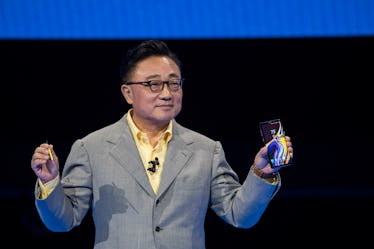 Samsung's Unpacked Event Has A Lot To Cover, So Better Grab The Popcorn
Drew Angerer/Getty Images News/Getty Images
On Thursday, August 9, Samsung hosted an Unpacked event to announce a slew of new products, including the Galaxy Note 9. With all that ground to cover and exciting new things on the horizon, you might be wondering how long is Samsung's Unpacked event? Hang tight, there's a lot going on.
According to Digital Trends, the event is expected to go for at least an hour, and TBH I would gamble on even more than that, considering everything they're unveiling. So if you tuned in late, it's not a problem — you're still going to have plenty to see. The Unpacked 2018 event took place at the Barclays Center in Brooklyn, New York, and the crowd assembled for the tech unveiling got to see a lot.
Before the event, tech fans were expecting to see at least four big new innovations, including the company's latest phone, the Samsung Galaxy Note 9, the Samsung Galaxy Watch, a new wireless charging platform, and the Galaxy Home speaker. Let me tell you, as the event unfolded it was pretty clear that fans were gonna get pretty much everything they were banking on (though we didn't get the wireless charging platform reveal. Rats).
The first portion of Samsung's Unpacked event was devoted strictly to the Galaxy Note 9. Their newest phone is set to be released on August 24 but you can pre-order as soon as Friday, August 10 — and it's going to have a whole bunch of new features. Probably one of the major problems smartphone users run into is running out of battery: I can't tell you how many times I've been stuck without a phone and had to find somewhere to plug in, but that won't be an issue with the Galaxy Note 9 that now has 24-hr battery life. Yup, that's a full day of battery life. Aside from the longer-lasting battery, the Galaxy also boasts features like a dual-lens camera for all your Instagram needs, as well as up to 512GB of storage for all the editing apps to go along with the spiffy new cam.
While the newest Galaxy Note was high on our list, Samsung used the time to pack in some more great tech. They introduced the Samsung Galaxy Watch, which is their version of a smartwatch, as well as the exciting news that they're getting into the smart speaker game. Samsung's Galaxy Home doesn't yet have a price or release date — in fact, TechRadar reports that it probably won't hit shelves for a while. But, Samsung did clue us in on a couple of cool features like being able to transfer what you're listening to on your Samsung phone over to your Galaxy Home. How cool is that? They also focused on how they really made sure that the speaker provided high quality sound. So your music will not only be easily accessible but sound awesome.
True, Samsung's Unpacked event was kind of long, but it's pretty understandable considering they had a lot of new tech to announce (and then explain in detail). I'm actually pretty surprised it didn't take longer. I would've been OK with it, as long as it included cool stuff.