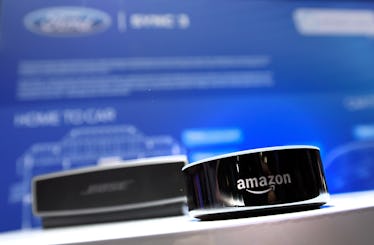 If You're Choosing Between Samsung's Galaxy Home & Amazon's Alexa, Consider This
David Becker/Getty Images News/Getty Images
Whether you like it or not the future is here and it's all about putting in the least amount of effort to yield the highest results. These days listening to your favorite tunes, finding tiny sunglasses on sale, or figuring out how to get wine stains out of the carpet is as easy as asking a smart device in your home. But deciding which one to splurge on could be a little difficult. Now Samsung is releasing their own smart speaker, and you might be wondering — in the war of Samsung's Galaxy Home vs. Amazon's Alexa, which one wins out? The good news is I'm here to help you through so you can get back to listening to Janelle Monáe on repeat without any physical exertion. You're welcome.
During Samsung's Unpacked event on August 9 for the release of their Galaxy Note 9, the company announced that they're releasing their own smart speaker. The voice-activated speaker, called Galaxy Home, will contain Samsung's own version of the "virtual assistant," Bixby, which was first introduced in 2016. Bixby is basically Samsung's version of Alexa, and although it hasn't been as much a household name, maybe this new speaker will change that? It all depends on which of these devices is the best.
Right off the bat, the Samsung smart speaker has one major thing against it: the price point. Though a price for Samsung's version hasn't been set yet, per Tech Radar, early reports said it was expected to retail for about $300 — while you can pick up an Alexa-enabled device, like the Echo, for 99 bucks, or even go with the Echo Dot for just $49.99. So is it worth the extra dough?
If you're looking for chic, I have to say that the Galaxy Home looks a lot cooler than Amazon's Echo products. It resembles sort of a mini version of really cool stool you'd find in Pottery Barn. However, it does look like it takes up a lot more space than the slim Echo products, so if you're purchasing it for your dorm or studio space, it might be something to think about.
If you're anything lime me who wants my television streaming reality TV at all hours of the day, then you'll be covered with either device. Both Amazon smart speakers and Samsung's new smart speaker use TV casting. However, with Amazon products you must have a Fire TV in order to stream on your TV by shouting Real Housewives of New York City into your Echo. On the other hand, Samsung's speaker makes use of Samsung Smart View which you can use from your device onto your Samsung Smart TV. It works the same as Apple's AirPlay. So while both include the same sort of television-viewing features, it depends on what you already have in your home.
Both devices also include reminders and app features. You can check the news each morning or the weather, or ask both Bixby and Alexa to remind you to do something like call Mom and Dad or pay your phone bill. So if that's the major function you want, either device will do.
But the big thing to be aware of? The speakers themselves.
Samsung's speaker seems like it might a better option for the audiophiles out there. The focus really seems to be on the speakers which have a subwoofer and provide a surround sound feel. If you want great sound but don't want to equip your home with expensive speakers that cost a lot, the Galaxy Home might be a good alternative. During the event, Samsung also announced that they will be partnering with Spotify as their primary music option, so you can really get the most out of the Galaxy Home. Which means your Galaxy Home is able to pick up whatever you're listening to on your Samsung Phone, which is pretty damn convenient.
Another major difference, aside from the price point, really has to do with the fact that Alexa-enabled devices belong to Amazon which makes Amazon shopping pretty easy, so if you're also an Amazon addict then buying an Alexa speaker might be your best bet. You can ask Alexa to reorder your face masks or let you know your Prime deals for the day. The only thing easier than shopping on Amazon is making a robot do it for you.
While both devices do similar things, for people who care about music and/or online shopping, the differences could end up being major. Then again, think of all the bath bombs you could buy with that extra 200 bucks.