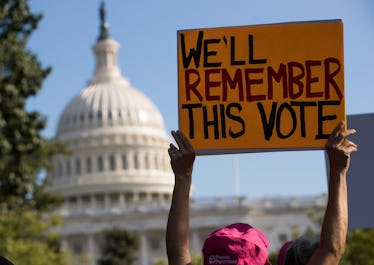 Abortion Laws Could Be Seriously Different After The Midterms, So Here's What To Know
Drew Angerer/Getty Images News/Getty Images
The fight for reproductive rights has never been an easy one, but as of Tuesday, Nov. 6, there are some victories — as well as some defeats. So, for those wondering what will happen to abortion laws after the midterms? Here are the major points to know.
On Nov. 6, the country made their voices heard — and what a lot of them wanted, apparently, were pro-choice candidates in office. Democrats, whose party platform supports the right to abortion, managed to take back the House of Representatives, with many pro-choice candidates and women winning congressional seats. At the state level — where many abortion restriction laws are passed — Democrats gained back seven governor's seats and won control of multiple state legislatures. "State elections matter," Rachel Sussman, national director of state policy and advocacy for Planned Parenthood Action Fund tells Elite Daily by email. "There are now 25 governors and 19 state legislatures, including Washington D.C, that will fight against the Trump-Pence administration's harmful reproductive health policies and protect our health care and our rights." She adds,
These victories mean the House of Representatives, governors, and state legislatures have the power and mandate to stand up for people's basic health and rights. Planned Parenthood will continue to work with our champions to expand access to health care and build on the growing efforts to expand Medicaid and protect women's health care.
However, there are still some major dangers: for one thing, Republicans tightened their grip on the Senate, which leaves the question of any Supreme Court seats that become available in play. In October, the Republican-controlled Senate confirmed Brett Kavanaugh to the bench, despite concerns that he would work to overturn landmark abortion rights case Roe v. Wade. As President Donald Trump has promised to appoint justices who would end legal abortion in the United States — as well as the fact that two of the liberal-leaning justices on the Court are in their 80s — this is a real concern for reproductive rights.
For residents of two states, the election results also laid down some new laws regarding abortion. On Nov. 6, residents in West Virginia and Alabama voted to pass anti-choice ballot measures that will have repercussions on women seeking reproductive health care. In West Virginia, Amendment One, also known as "No Constitutional Right to Abortion Amendment," ensures that the constitution is not required to secure, protect, or fund abortions except in the case of rape, incest, or threat to the mother's life. In the case of Alabama's Amendment Two, the situation is a bit more complicated. For Alabama, the new amendment "recognizes and support the sanctity of unborn life and the rights of unborn children," according to the measure's text. So, if Roe v. Wade gets overturned anytime in the near future, there's a chance that Alabama could be denied abortions effective immediately.
According to The Huffington Post, West Virginia is one of only 17 states that allows Medicaid funding to be used towards abortions that are considered "medically necessary." Therefore, now that this measure has passed, women, particularly minority groups, have a lot to lose now that this funding has been cut.
In addition to West Virginia and Alabama, Oregon also featured an anti-choice ballot measure that would have cut funding for abortions. However, the measure was resoundingly struck down by voters on Election Day.
Even though this is a blow to women's reproductive health in general, there are certain groups of women who stand to be impacted the most. Seeing as a large number of groups use health care as a way to fund reproductive health and abortions, there's a high chance that women from low income households, LGBTQ+, and POC women could be disproportionally affected by this decision. On Wednesday, Nov. 7, Dr. Brandi Shah, a board member with Physicians for Reproductive Health, told Elite Daily by phone that Alabama's amendment represented a dangerous step in regards to reproductive rights in the state.
"For Alabama, it's putting us one step closer to banning abortion, Shah, who recently moved to Alabama from Washington state, says. "We're in a situation where Roe v. Wade could be overturned. That's a lot scarier than it was before."
The controversy surrounding the pro-choice movement and reproductive rights has been a longstanding battle for years. However, some reproductive rights organizations aren't letting this misstep reflect the larger attitude towards abortion rights in the United States. Deirdre Schifeling, executive director of Planned Parenthood Votes, told reporters during a press call over the phone that these two decisions don't represent the entirety of the United States' feelings towards the pro-choice movement.
"The results last night from West Virginia and Alabama were disappointing on the ballot measures," Schifeling says. "They were no way a reflection of public support for safe and legal abortion. The support for Roe v. Wade remains at an all time high." An NBC News exit poll on Nov.6 found that two-thirds of voters wanted to keep Roe as-is.
For a while it felt like the anticipation leading up to the November midterms would never end, but that's officially a wrap folks. However, even though our votes have been counted, let's make sure change doesn't stop here.