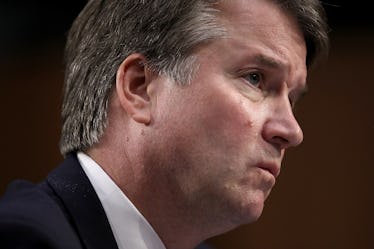 Brett Kavanaugh's Reported Emails About Roe V. Wade Challenge What He's Said Before
Win McNamee/Getty Images News/Getty Images
On Sep. 6, the Senate entered its third day of hearings on whether to confirm Brett Kavanaugh, President Donald Trump's nominee for the Supreme Court. Tension surrounding the hearing was heightened on Thursday as reported leaked documents were published, revealing the judge's views on longstanding abortion law. Brett Kavanaugh's stance on Roe v. Wade, as apparently revealed in those documents, seems to be at odds with what he's expressed publicly before the Senate hearing this week.
In an article published on Thursday, Sep. 6, The New York Times stated that on Wednesday evening, it was provided with some of the documents kept under wraps by Senate Republicans. Among the documents provided to the Times was a reported email from 2003, when Kavanaugh served in the White House under President George W. Bush. Elite Daily reached out to Kavanaugh's office in the U.S. Court of Appeals for comment on the emails but did not hear back at time of publication.
In the reported email provided to the Times, Kavanaugh provides a suggested edit to an op-ed piece to be written citing Roe, which established the federal right to an abortion. He reportedly wrote,
I am not sure that all legal scholars refer to Roe as the settled law of the land at the Supreme Court level since Court can always overturn its precedent, and the three current justices are likely to do so.
Late Monday, just hours before Kavanaugh's hearing was set to begin, a lawyer for Bush turned over 42,000 pages of documents to the Senate Judiciary Committee pertaining to Kavanaugh's tenure in the West Wing, after the Trump White House Friday had refused to release over 100,000 pages of the judge's extensive paper trail.
Previously, the Bush administration's legal team had given some 415,000 pages of documents to the committee for review, but much of that content — about 147,000 pages — was marked as confidential, prompting calls to make those documents available.
Monday's release, on such short notice, prompted Sen. Chuck Schumer on Wednesday, Sept. 5 to force the Senate to adjourn until they'd had proper time and access to review the documents.
"Boom: Those secret Kavanaugh emails that the Judiciary Committee won't let out?" tweeted Times editor Jonathan Weisman on Sept. 6, "We've got them: Abortion, affirmative action, surveillance. Now the committee has something to talk about."
The email in particular is seen as a clue in what has otherwise been a guessing game at Kavanaugh's stance on abortion behind closed doors. His statement that Roe could always be overturned appears to conflict with what the judge told the Senate yesterday, when he again stressed the case's undeniable precedent.
On Sept. 5, Kavanaugh signaled that he acknowledged the Roe decision. When Sen. Dianne Feinstein of California asked him, "What would you say your position today is on a woman's right to choose?" He responded, "As a judge, it is an important precedent of the Supreme Court ... I understand the significance of the issue." As to whether he though it could be overturned, he said, "One of the important things to keep in mind about Roe v. Wade is that it has been reaffirmed many times over the past 45 years, as you know." At the time, he did not say directly, however, whether he believed the ruling could — or should — be overturned.
So Kavanaugh's remarks to the Senate (or lack thereof) stand in contrast to his email indicating that he viewed Roe as something that SCOTUS could overturn. The discrepancy itself was troubling to some Democratic lawmakers, and the view of Roe as reversible was cause for alarm among reproductive health care advocates.
Beyond its implications for reproductive rights, many expressed concern about what the secrecy says about the confirmation hearing process at large.
"Among other bombshells, this leak indicates that Kavanaugh was indeed very involved in a judicial confirmation fight during the Bush era that he later testified, under oath, that he hadn't been primarily involved in," tweeted MoveOn director Ben Wikler. "How can we trust his testimony now?"
Trump's nominee for the seat has been a highly contentious choice, in part because of his murky position on abortion rights and whether he would uphold longstanding precedents around them. Many pro-choice advocates have been sounding the alarm bells over Kavanaugh's nomination given his past remarks where he would not state his own views on the issue, but reiterated the precedent. In light of that, advocacy groups began calling for him to make a public statement on his position.
"Brett Kavanaugh's emails are rock solid evidence that he has been hiding his true beliefs and if he is given a lifetime seat on the Supreme Court, he will gut Roe v. Wade, criminalize abortion, and punish women," said NARAL Pro-Choice America President Ilyse Hogue in a statement to Elite Daily about the Times article. "Everything he said yesterday in front of the Senate Judiciary Committee about 'settled law' was nothing but a show to mislead the Senate ... Now we know exactly why Republicans are hiding his records."
Pro-choice advocates were already concerned over Kavanaugh's record given his ruling on Garza v. Hargan in 2017 regarding whether undocumented minors could seek an abortion. Additionally, some physician advocates for reproductive health care have expressed concerns about how a Kavanaugh confirmation might impact what they see is an already limited access to abortions. Kavanaugh has also been embraced by some pro-life advocates who clearly view him as the lynchpin to a ruling to overturn Roe and abolish abortion rights.
But at this point, whether Kavanaugh would in fact vote to overturn the landmark case on the bench is all speculation. And for the moment, he still has to get approved by a majority of the Senate in order to get there. We'll see how it does.