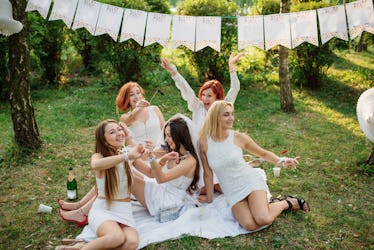 The Perfect Outfit To Wear To Your Bachelorette Party, Based On Your Zodiac Sign
In my opinion, your wedding dress and the first outfit you wear with your new lifelong partner tie for first place when it comes to crucial fashion decisions. A close second is your bachelorette party outfit. Your bachelorette bash is going to have all of your favorite ladies celebrating the last moments of your singleness. It's going to be epic, and that's why your outfit has to scream, "Sorry, but this girl is about to be taken forever and always." Yes, the stresses of another outfit may be underway, but deciding what to wear to your bachelorette party can be determined by your zodiac sign and your loyal AF girls trekking from dressing room to dressing room with you.
It's a process, but ultimately, you want your bachelorette party outfit to portray your personality. You should also consider what your ladies have planned for you. You're going to remember this outfit forever, because it signifies such a special time with you and your bridal party. Seriously, if outfits could talk, you wouldn't ever be able to shut this one up. It's easy to get overwhelmed during this wedding-infused time of your life, but if you really sit down and consider your taste and style, you've already got the first part down.