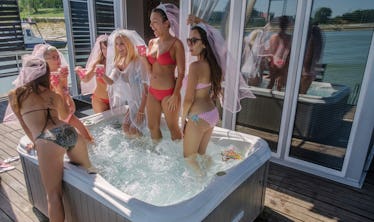 The Perfect Bachelorette Party For You, Based On Your Zodiac Sign
Ladies, we know how to throw a party, and that's why when it's your or your main girl's turn to get married, the bachelorette party is in good hands. Your bride tribe would never let you down. Even if you're struggling to think of what kind of bachelorette party to have, you know it's going to be epic.
Your bachelorette party should get you pumped and excited about this amazing new chapter in your life. And no matter how nerve-racking it can be to think about such a pivotal point, an outing with your closest girls will settle those nerves. It's your time to turn up in a way that's amazingly tailored to you, girlfriend. It's all about you, and you'll have an incredible support system that will make this time the best.
Sure, you've spent an entire weekend with your girls before, but now one of you is the bride to be, so the dynamic is totally different. Expect laughs, tears, YOLO behavior, and most importantly, expect these moments to become a keepsake and something to look back on and smile. Every bride is different, so with that comes various bachelorette activities that are meant for you, based on your zodiac sign.