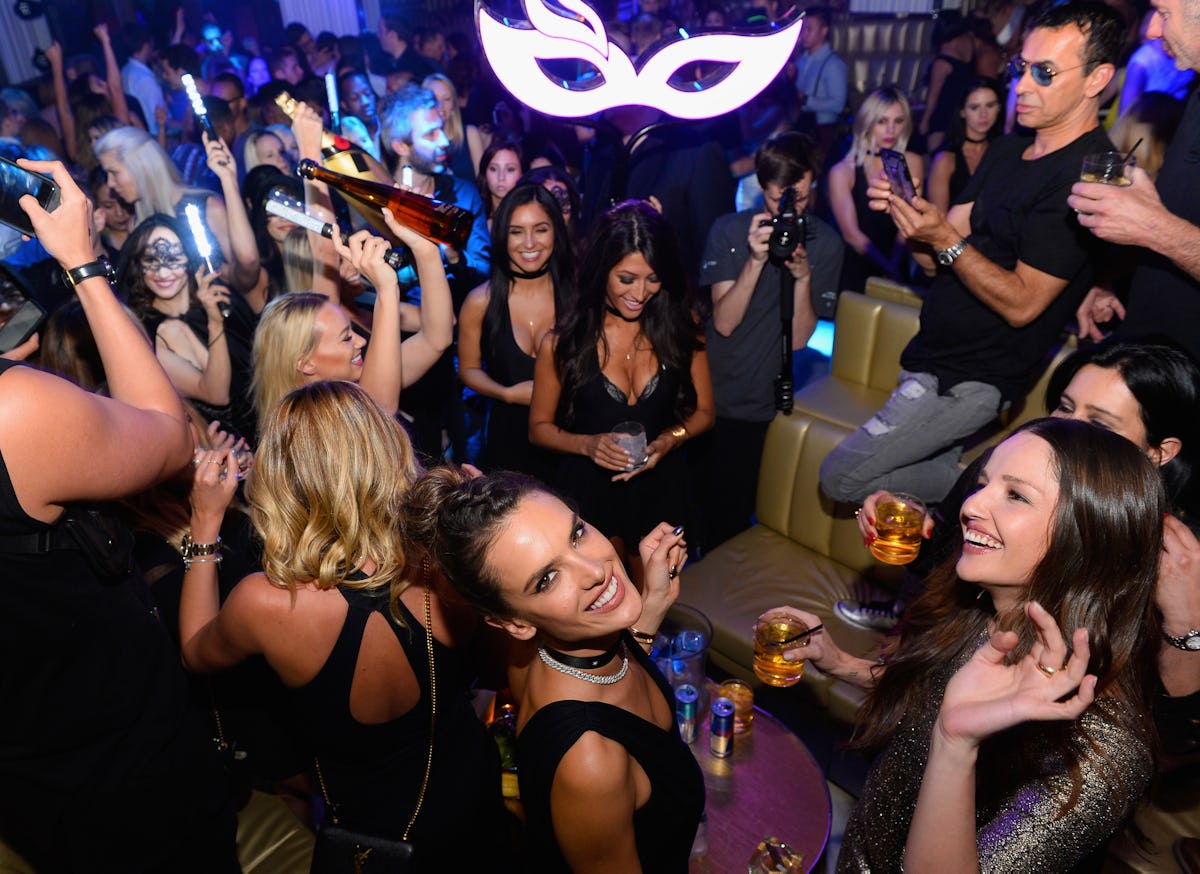 5 Outfits To Wear To A Bachelorette Party, No Matter If You're Headed To Vegas Or Vail
Bryan Steffy/Getty Images Entertainment/Getty Images
It's happening. I've reached that age where I hear of another friend or acquaintance getting engaged every week. And if you've been asked to serve as a bridesmaid in a friend's wedding then the question of what to wear to a bachelorette party might be looming over your head. I attended my first bachelorette at the end of last year and brought approximately 46 pounds of luggage for a three-day trip because I wasn't sure what I'd need. Seeing as it encompassed everything from clubbing and brunch to exploring a new city (Montreal!) and hitting a few bars, I retrospectively feel that my giant luggage was somewhat warranted. I also feel like I got a decent idea of every clothing item one could possibly need to bring for such an occasion no matter what type of bride is getting married.
For some brides, their bachelorette is a time to party hard in a place like Vegas, New York, or Montreal. Clubs and nice dinners might be their cup of tea (or dirty martini). For other brides, a relaxing getaway in the mountains or near an ocean complete with morning yoga sessions might be more their taste. No matter what type of celebration you're headed to, the below five outfits will have all of your sartorial needs covered.
JOIN THE CLUB
If Vegas is calling (or any other city saturated with fancy clubs), you're definitely going to need a sexy going out dress and pair of comfy-enough-to-dance-in yet equally head-turning heels. The cardinal rule of bachelorette party dressing is that you can't wear white–that color is reserved for the bride.
An LBD never fails, especially when it's denim and boasts a super sexy neckline.
Add a pop of playful color by swapping out your plain clutch for a colorful beaded version.
These shoes scream party.
THE GREAT OUTDOORS
If you're headed to a bachelorette party that entails hiking, yoga, or the like, athletic clothes are a must. Seeing as lots of photos will probably be taken you'll want them to look good, too.
Outdoor Voices is the coolest athletic brand on the market right now and for good reason. Their styles are not only super cute but also super great quality.
Match your top with tri-tone leggings for an especially coordianted look.
What would a sporty look be without a fanny pack? This one, which features a cloud pattern, is all kinds of dreamy.
BRUNCH BUNCH
I feel like a brunch at a trendy restaurant is a bachelorette party staple. It's a great excuse to get a little dressed up and to drink mimosas at 11am. What could be better?
Architectural earrings will never not be cool. These are casual enough for a daytime brunch but pack a cool geometric punch.
Co-ords make putting together a chic outfit beyond easy. This skirt and top combo is slightly mod, slightly '70s, and totally rad.
White shoes for the win always. These boast a chunky heel so your feet won't be killing you.
TOTAL TOURIST
If you're going to a destination bachelorette, chances are you'll be exploring the city a bit. You'll need a look thats' comfortable and practical but will still standout if (read: when) your crew stops into a bar along the way.
Touristy things = walking outside. You'll need these.
This top is super casual and incredibly versatile. Pair it with a black skirt and heels and voila! You've got another going out look.
Cool blue jeans, but really, really cool ones.
You'll need some awesome sneakers to traipse around in—why not stick with classic Vans?
SLUMBER PARTY
Whether for morning breakfasts or late night talks and games, pajamas are a big part of bachelorette party attire. Which rules because PJs are heaven. Here's a cute set to get snapped in while making a fort in your Air BnB's living room. Or is that just what my friends and I do?
Because gingham is always cute.
Pro tip: buy all your fellow bridesmaids and the bride matching slippers. You'll be able to wear them again when you're getting ready for the big day!