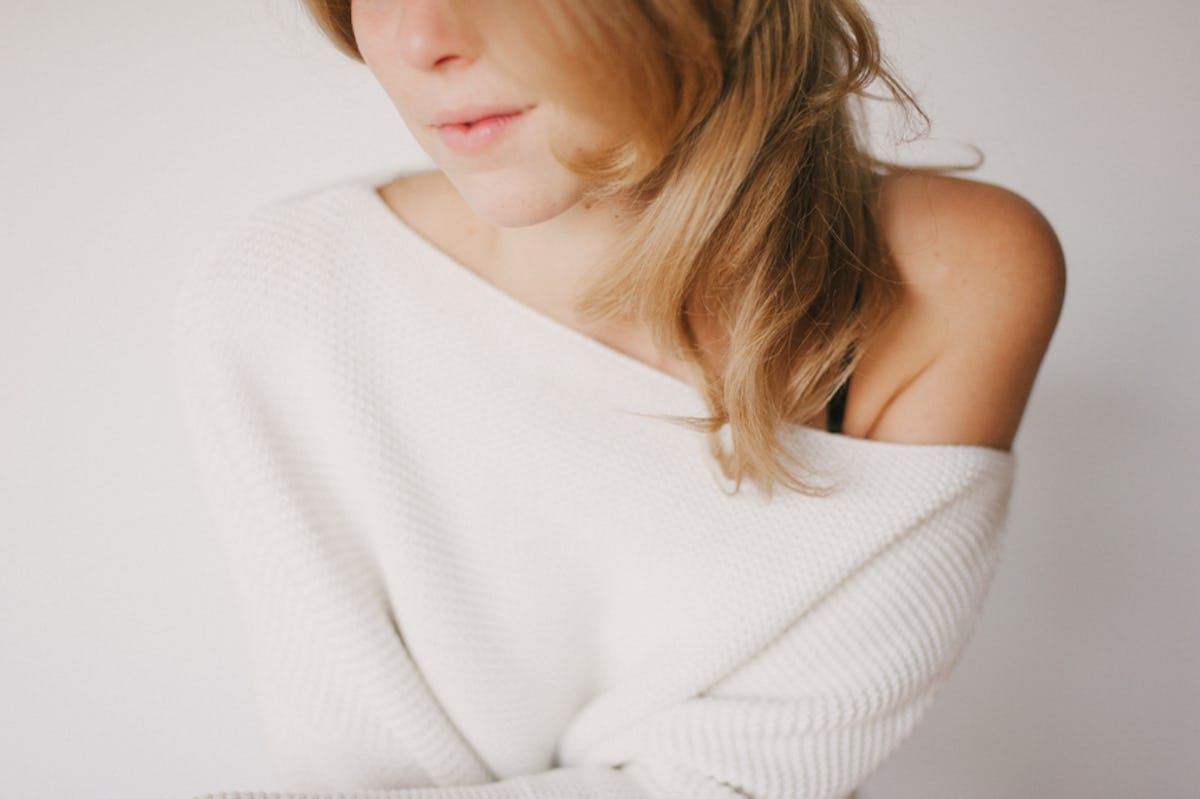 The Hottest Things To Wear On A Date When It's Literally Freezing Out Are Velvet Dresses & Sexy Sweaters
After moving to Boston for college, I pretty much immediately decided that I would be spending all winter in sweatshirts and a parka that I affectionately dubbed a "walking sleeping bag," no matter the occasion. Friends far braver than I were traipsing to meet frat boys in 12-degree weather, legs and necklines exposed to the elements, while I debated the logistics of buying a ski mask (because who really needed to see my face, anyway?). Basically, none of us knew what to wear on a date when it's cold, and so we either froze or became "that anti-social weirdo who's been wearing the same sorority zip-up for three months." There was no in-between.
But ladies, let me tell 'ya – there is an in-between (I learned eventually). It comes in the form of off-the-shoulder sweaters, curve-hugging dresses, and over-the-knee boots that will keep you feeling hot in more ways than one. Honestly, the things my ski-mask-Googling college self would have done for this list...
Here are four outfit ideas that are sexy, flattering, and – magically – completely appropriate for winter weather. Throw one of these looks together next time you've got a hot date on a freezing cold night.
The Serena van der Woodsen
I'm not sure there's any form of footwear that's simultaneously as sexy and winter-ready as over-the-knee boots. They come up to your thighs, thus minimizing skin-to-cold contact, but still have that come-hither aesthetic.
Pair these babies with a button-down blouse (maybe with a few buttons undone, à la Serena van der Woodsen), some fishnet stockings, and a mini skirt if you want to feel like you just stepped out of an episode of Gossip Girl. And really, who doesn't?
PS: If you're worried about getting chilly in fishnets, slip a pair of sheer pantyhose on underneath. I hear that's what Beyoncé does...
The Sexy Snow Bunny
If you thought off-the-shoulder attire was strictly a summer trend, please allow me to introduce you to off-the-shoulder sweaters — your new go-to for date nights this winter.
Throw on one of these snug or slouchy sweaters with a pair of skinny jeans and booties, and you'll be snow bunny chic in no time. You can even opt for booties with a metallic heel, if you're feeling a little wild.
Oh, and if you'd like to dress things up even more, try pairing an off-the-shoulder sweater dress with some over-the-knee boots (I'm telling you, they'll be your new favorite shoes in no time).
The Velveteen Rabbit
Well, more velvet than velveteen... but I'm sticking with the bunny/rabbit theme now. And if your date's on the fancier end of the spectrum — like, you're heading to see The Nutcracker instead of grabbing drinks at a bar — a velvet dress (with tights, of course) is the way to go. Velvet's a super cozy material, but you'll still feel luxurious AF. Like a fancy Santa.
The "Tell Me About It, Stud"
I have a lot of questions about the end of Grease, but perhaps most importantly, I would love to know how Sandy managed to dance around in an all-leather ensemble at the start of the summer? Because, as any woman who's worn leather pants can tell you, those things get toasty. Which is why you should absolutely rock a pair in the dead of winter, and not at your high school's end-of-year carnival.
To get the full Sandy look, pair your leather pants with a black top and a red belt, for a pop of color. The smoking and shimmying are optional, of course.
Say it with me: the cold never bothered me anyway.
Check out the entire Gen Why series and other videos on Facebook and the Bustle app across Apple TV, Roku, and Amazon Fire TV.
Check out the "Best of Elite Daily" stream in the Bustle App for more stories just like this!