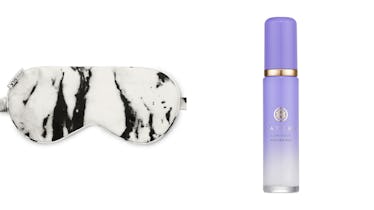 10 Things You Really Should Pack In Your Carry-On That Nobody Tells You About
Shhhsilk / Tatcha
As a very frequent traveler, I like to think that I've mastered the art of packing a carry-on bag. From beauty products to wireless headphones, there are quite a few things that I swear by for a seamless flying experience. Not only do I believe that these items truly enhance a trip, but after depending on them for a while, I have come to think of them as necessities. Here's what to pack in your carry-on bag for the most enjoyable flight ever.
There are some things that people always remind you to bring, like neck pillows and a magazine, but I think there are a lot of things that go overlooked — and they are total must-haves. People who know me know that I swear by sheet masks to get through a flight, and I love a silk eye mask to help me sleep on longer plane rides. In my opinion, products that are versatile are key to having an easygoing and stress-free flight.
If you're traveling soon and need some tips on things to pack in your carry-on that you might not have known you needed, make this list your guide. Happy travels!
1. Headphones That Can Work Both Wired And Wireless
2. A Facial Spray That's A Refreshing And Hydrating Addition To Your Plane Skincare
3. Sheet Masks That Leave Your Skin Glowing
4. A Face Roller That Helps Relieve Any Pressure And Puffiness
5. A Dual USB Charger
6. A Silk Eye Mask That Helps You Get The Most Restful Sleep You've Ever Had On A Plane
7. A Moisturizer That Combats The Dry Air On The Plane
8. A Versatile Sweater That Keeps You Comfy-Cozy On The Plane
9. A Reusable Cup That's Easy To Refill
10. A Dry Shampoo That Makes Your Hair Feel And Look Red Carpet Ready