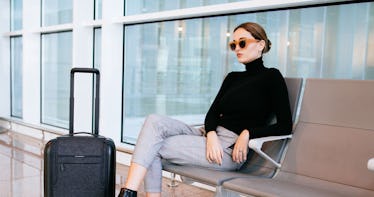 I Packed For 30 Days, 5 Cities, & 4 Climates In A Carry-On & Here's How You Can, Too
Susana Ramírez, Stocksy
I travel pretty frequently, and it's safe to say that I'm on a plane at least once every other week or so. But no matter how many times I go on the road, packing never seems to get easier. I always worry about having enough things for those "just in case" moments, but I think I've figured out the best hacks for fitting as many things in my carry-on as possible. I recently hit the road for a month-long trip between five different cities in four different climates, so I've rounded up my tips on how to pack for a month in a carry-on.
Yes, you read that right — I packed for a whole month in just a carry-on bag. Don't get me wrong: It was definitely a challenge and I was worried I would forget something. But so far, everything has worked out.
I was able to fit a ton of clothes, three pairs of shoes (booties, sneakers, and heels), a clothing steamer, hat, hair dryer and curling iron, and all of my toiletries into my suitcase. I think I actually have to pat myself on the back for this one, because I'm pretty amazed that it worked out the way it did.
If you're going to be on the road for a few weeks, or just need some general packing tips, read on for all of my go-to hacks.