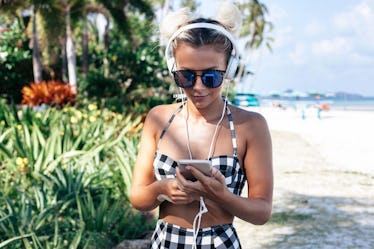 For The Best Spring Break In Florida Yet, Don't Forget To Pack These 9 Things
Girls just want to have sun. You want to ditch the puffer jackets and oversized knit sweaters you've worn a thousand times by now. You want to trade in the snow for dreamy, teal waters and palm trees. Thank goodness it's almost time for spring break then, huh? You're catching a flight to paradise — to coconut drinks, plush cabanas, and perfect afternoons spent poolside with your best friends. One thing is on your mind, though: what to pack for spring break in Florida — aka, "The Sunshine State." I have a few ideas!
This isn't the first beach vacation you've ever taken, so you pretty much know what to expect. You know that the breakfast buffet will be calling your name, with its endless waffles and whipped cream. The pool will be fairly busy, until everyone goes back to their rooms to get ready for fancy dinners and romantic walks along the water. You'll spend at least a little time taking pictures of the resort, so that you can post them on social media.
But, you're not entirely sure what to pack for a week or so in Florida. Bathing suits, bottles of sunscreen, and flip flops will definitely be #necessary. What else are you missing? Well, odds are, you might not have put these nine items into your suitcase quite yet. Snag them, and then go soak up the sun, please!